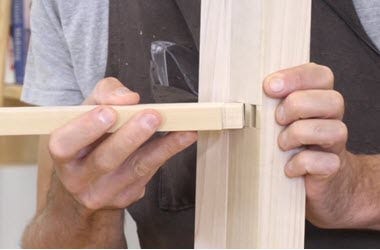 Mortise and tenon joints are commonly used when adjoining two pieces of wood that connect at right angles. They are the preferred joint for furniture and cabinet projects. There are a lot of variations of the mortise and tenon joint but, when you're looking for maximum strength, you can't go wrong with the double mortise and tenon. This joint offers twice as much surface area for glue, making the joint stronger than a single mortise and tenon.
How To Machine Cut Double Mortise and Tenons with Tim Rousseau
In this video, Tim Rousseau, an instructor at the Center for Furniture Craftsmanship, demonstrates how to cut double mortise and tenons with a plunge router.
Double mortise and tenon joints are used most often in a web member that's below a drawer where you're trying to get as much glue strength as possible from a narrow component.
The two different formats we find them in is where they'll be in a table leg, or they'll be in a carcass side where you'll find several of them under drawers in the front and rear of the carcass.
The first question people usually have when looking at a double mortise and tenon is, "Why can't I run one tenon and mortise the opposite way, 90 degrees"? The reason is we're trying to maximize the glue strength. The vertical walls we have on the tenon and on the mortise is giving us our long grain to long grain glue strength. If we just ran one 90 degrees, the only strength we would have is at the ends.
There's a variety of ways to cut double mortise and tenon joints, we like to use spacers. One spacer that cuts the tenon and a second spacer that helps in the mortising.
Check out the video above for a step by step walk through of how we cut double mortise and tenons at the Center for Furniture Craftsmanship.
Related Product Categories