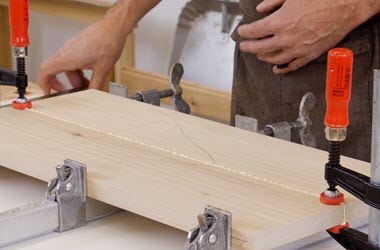 Edge gluing boards is a fundamental skill in furniture making; frequently needing to glue boards together to create wider surfaces to work with.
How to Edge-glue Boards with Tim Rousseau
In this video, Tim Rousseau, an instructor at the Center for Furniture Craftsmanship, demonstrates how to glue a pair of boards together with an edge joint. Often when making furniture, we need to glue boards together to make wider surfaces. Knowing how to edge glue boards is a skill that you'll want to have for any furniture making project.
The first thing to think about when gluing boards together is the appearance of the boards. It's important to take some time to determine the best visual look for the boards once they get glued together. It's often the case that the straight-grain to straight-grain areas will blend nicely when glued together.
After choosing the grain pairing of the boards, mark the faces with a cabinet maker's triangle and arrows on the leading edges to know which direction you are planing.
Tim instructs how to set up and run a jointer safely and for the optimum cut. If they are not precise from the jointer, shoot the boards with a hand plane as in the "How to Prepare Edge Joints with Hand Planes Video". The perfect joint will have a slight hollow, or spring joint, inside so when clamped, the seam closes completely.
There is a lot that can go wrong in a bad glue up, it is important to have the glue and clamping setup ready and dry tested. First, protect your workspace with a cover sheet or mat. Layout clamps to create even pressure, spread glue along both edge joints, clamp and double check surface is flat. Clean excess glue off of the joint with a shop rag and leave overnight.
Related Product Categories