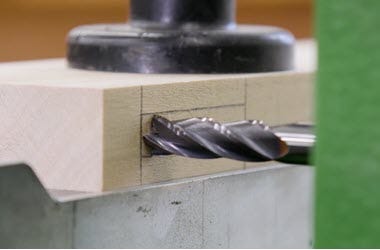 A horizontal mortiser is found in many medium to large scale shops. It is designed to cut round flat-bottomed mortises and is wonderful for chairmaking and mortising into odd shapes, as well as general cabinetmaking.
How to Make Mortises with a Horizontal Mortiser with Tim Rousseau
In this video, Tim Rousseau, an instructor at the Center for Furniture Craftsmanship, demonstrates how to set up a Horizontal Mortiser.
A horizontal mortiser consists of a motor, a chuck, a 4-flute end mill or 2-flute spiral upcut bit that goes into the chuck, and the table the work gets clamped to for mortising. The large table surface is great in allowing various sized, shaped and even angled and curved pieces to be mortised.
Horizontal mortisers can be different, but with all of them, secure the piece to be mortised to the table and set the height, depth and the left and right movement of the bit. Once set up, take light passes of 1/8" at a time and repeat on the following components.
With a variety of ways to cut mortises, a horizontal mortiser is one of the fastest, easiest and safest ways to achieve a clean mortise.
Check out the video above for a step by step walk through of how we make mortises with a horizontal mortiser at the Center for Furniture Craftsmanship.
Related Product Categories