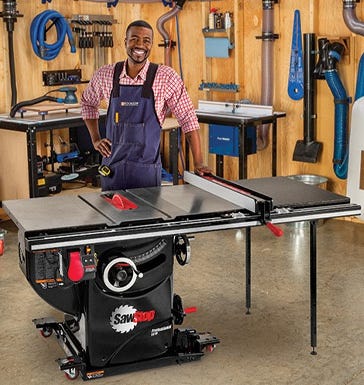 When the worst case scenario happens, SawStop table saws do exactly what their name says: they stop. Instantly. That's fantastic in itself, but woodworkers have also learned that for the rest of the time, these robust, capable saws just go, and go, and go. This guide will show you how to make the most of that "go time." We'll talk about basics like setting up your saw, positioning it in your shop, and adding accessories to make your sawing easy, accurate and incredibly versatile.
1. Align Your Blade and Fence
Before you make your first cut, be sure to check whether the blade is aligned properly with the miter slot and fence. Check out this article and accompanying video to learn how to do it without any specialized tools. Once that's done, you'll need to align your fence with the blade, too. Here are some tips for aligning your table saw fence with the blade. Once these simple adjustments are done, your saw will cut like a dream.
SawStop Tip

While dial indicators are a nice tool to have for tuning up your machines, they're not absolutely necessary for tuning up your table saw. You can use an ordinary combination square in the miter slot to check for parallelism with the blade.
2. Locate Your Saw in the Center of Your Shop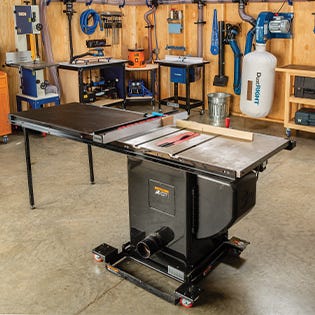 With the capability to rip and crosscut large materials, and also cut fine joinery, the table saw should command the center of your shop with plenty of clearance on all sides. Measure the infeed and outfeed clearances to be sure you have enough room for your maximum stock length to feed into and out of the saw, plus at least three additional feet of buffer. If you'll be crosscutting, be sure to leave plenty of clearance on the left and right as well. Giving your saw plenty of elbow room will allow you to use it for all of its potential uses.
SawStop Tip

For small shops and garage shops, a mobile base is an essential add-on for your table saw. It lets you wheel the saw where it has plenty of space, and then back to the wall when you need to use other machines, or to park your car. SawStop offers mobile bases for all of their full-size table saws: CNS, PCS and ICS.
3. Be Prepared With Safety Equipment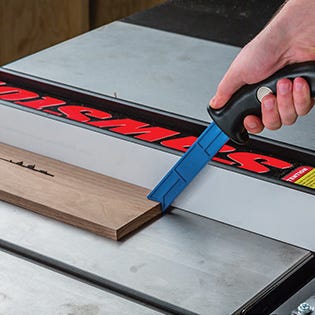 SawStop's blade brake is amazing, but nobody wants to personally test it. You still need to use push sticks for any board narrower than 4" in order to keep your hands away from the blade. Keep one handy at all times - the perfect place is right on top of the fence, where the fence faces keep it nicely corralled. Our popular Magnetic Push Stick will even stick to the top of ferrous metal fences to keep it from rattling around.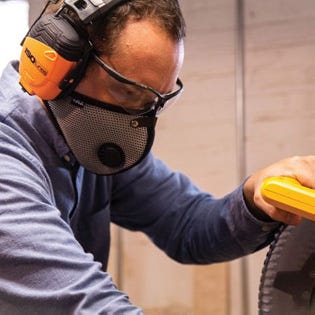 There are plenty of other table saw hazards to watch out for, too. Kickback, flying splinters, noise and dust are just a few. Be sure to leave the riving knife in place to combat kickback. In addition, browse our featherboard selection for a simple add-on that keeps your stock against the fence and helps to prevent binding. As always eye protection is a must, and be sure to check out our selection of masks and respirators for when the fine dust is flying (definitely any time you're cutting MDF). Check out our Ear Protection Options, including many that will replace the noise with the music or podcast of your choice.
Note that it's also important to keep the surface of cast iron table saws waxed or oiled to prevent rust, and also to reduce friction when feeding stock through the saw. Smooth sliding and ease of use help to contribute to a safer work environment.
4. Use Outfeed Supports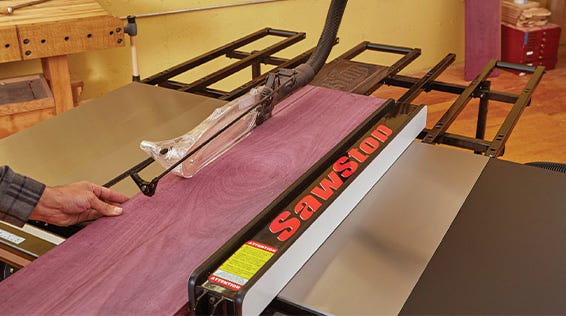 SawStop cabinet saws can handle thick, heavy lumber, and for just that reason, you should always use adequate outfeed support. Set up an outfeed stand like our 3-Row Ball-Bearing Stand or our combo Fliptop Roller Stand with Panel Support Attachment for ease and safety. If you want even more support, there are plenty of permanent outfeed table options that fold down to save space when not in use. SawStop offers a dedicated Folding Outfeed Table that fits all cast iron models, and features integral rollers for low-friction sliding.
If you'd rather put your saw to work earning its own goodies, check out our FREE shop-made folding outfeed table plan. Our design features a solid, low-friction top that can double as a work surface, and unlike metal options, you can easily customize it to work well with other add-ons like mobile bases and dust collection hoses.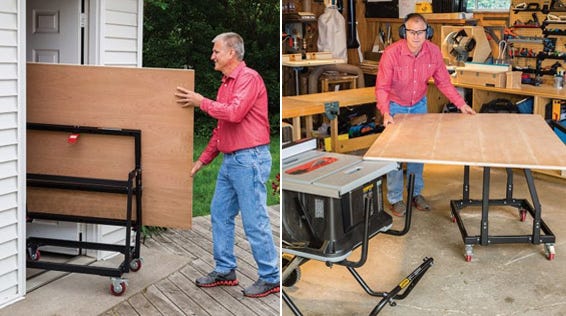 SawStop Tip

Getting big sheets of plywood on the saw can be taxing on your back. For an amazing solution that lets you wheel whole sheets of plywood straight from the truck bed to your saw, check out our Material Mate Panel Cart and Shop Stand. Not only will it save your back, but it can also double as an outfeed table—a great dual-purpose tool for small shops.
5. Use a Crosscut Sled and/or a Sliding Table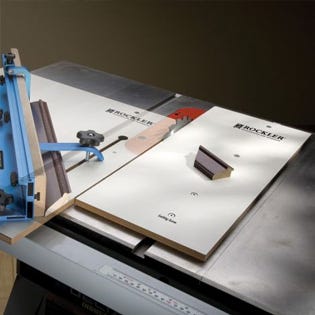 One of the most useful accessories for a table saw is a sliding table or crosscut sled. When compared to the miter gauge included with your saw, sleds and sliders offer much better material support, less friction, incredible accuracy with miters, and the ability to add a material stop. If you have the space, SawStop offers two sliding table options — the Large Sliding Table Attachmentand the slightly more compact Sliding Crosscut Table — both of which offer ultra-smooth ball-bearing movement. If your shop is short on space, check out the two sled offerings from Rockler: the standard-size Tablesaw Crosscut Sled [link to 33113] and the Small Parts Sled [link to 55916] for the bits and pieces that are impossible to cut safely on a larger sled.
6. Make Dust Collection a Priority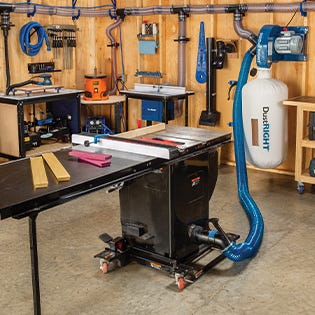 In general, cabinet saws do a pretty good job of containing dust below the table, but the smaller stuff that the blade flings out the top can be harder to deal with. To start with, make sure you leave the blade guard in position to keep the chips out of your face. To keep the dust off the table, consider adding on an above-table dust solution like the SawStop Overarm Dust Collection system. You can also upgrade to a floating system that offers minimal obstruction to your work. SawStop offers their Floating Dust Collection Blade Guard to fit 36" and 52" versions of CNS, PCS and ICS saws.
Use a dust collector with at least a 4" diameter hose, and 350 to 450 CFM for the table saw alone. Our Wall-Mount Dust Collectors, available in a 650 CFM model and a 1250 CFM model, are great for small shops where space is at a premium. We also offer a 750 CFM model that rolls on casters so you can move it from machine to machine. Also consider using a two-stage dust collector. With a system like this, the heavier chips fall into a separate container before ever reaching the dust bags. This means you won't have to empty the bags as often, and your dust collector will maintain strong suction for longer. You can build your own two-stage system with our 4" Dust Separator Components and FREE plan. Note that this kit does not include hoses or hose clamps. A popular choice for the hose is our 4" Clear Flexible Hose and our 4" Keyed Bridge Hose Clamps to hold everything in place.
SawStop Tip

Shop vacuums are not powerful enough for the brunt of table saw dust — this is definitely the domain of a dust collector. However, many customers have had good luck using a separate shop vacuum connected to their optional above-table system to collect dust above the table.
7. Use the Right Blade and Make Sure It's Sharp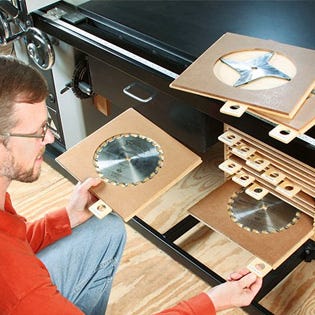 Choosing the right blade for the application at hand is crucial. For a helpful guide on doing just that, check out our article How Do I Choose the Right Saw Blade. You can browse our wide selection of table saw blades here. Also, keeping your blades sharp is just as important. Check our our Table Saw Blade Organizer plan for a great way to keep your blades neatly sorted, and the teeth in pristine condition.
8. Keep a Spare Brake Cartridge on Hand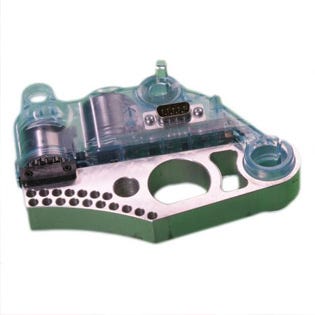 To prevent downtime during your project, consider keeping a spare Standard Brake Cartridge on hand in case the brake has to jump into the line of fire for you. This way, you can swap it out and keep working. Also, remember that dado blades require a dedicated Dado Brake Cartridge because of the smaller 8" blade diameter.
We're confident your SawStop table saw will be everything it's cut out to be, and hope that this guide has helped you get more from it. Don't forget that we have expert staff in our stores, online and available by phone to help out if you have a question that's not answered here.