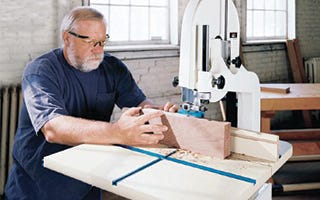 This auxiliary table doubles the cutting surface of your bandsaw, with T-tracks to assist in setting up jigs and cutting guides. The common 14" band saw is one of the most versatile shop machines. You can crosscut and rip on it, do circles and complicated curves, even scrollwork with the right blade. It easily resaws expensive stock up to 6" wide and turns that waste into additional projects.
The best part is that a band saw is all this, and more, right out of the box. Imagine what it would be like with just a few simple improvements. Fortunately, there are more than just a few ways to make a band saw better.
While some are a bit pricey, most are less expensive than you might think, and just about all are easy to add to your machine. Sometimes a few minutes is all you need to make a vast improvement to saw performance.
Upgrade or Accessorize?
Band saw improvements fall into two categories: upgrades and accessories. For the context of this article, I've grouped items that involve permanently replacing stock parts or machine structures — that is, whatever came as standard equipment with the machine is never used again — as an upgrade. Parts normally replaced due to wear, I've placed in the accessory category. Same thing for easy-to-swap non-wearing parts, and separate add-ons that enhance what's already on the saw.
Upgrade Time: Four Biggies
Ready to turn your workhorse band saw into a thoroughbred? Here's a quick roundup of four popular upgrades.
Riser block - Resawing on the table saw gives varying results and can be dangerous, but the band saw is a natural at the task. Most 14" band saws are limited to resawing boards up to a maximum of 6" wide. However, because band saws consist of upper and lower castings joined in the middle to form the machine's support column, it's possible to unbolt the castings, separate them, and add a cast-iron spacer called a riser block between the two castings. Riser blocks can increase resaw capacity to a full 12". The original blade guard and guide post will no longer fit, so risers come in kits with a new guard and post of the proper size. And don't forget you'll have to replace your current blade with a longer one. Just about all band saw manufacturers make riser block kits for their 14" machines; they cost around $70 to $125.
Tension-release lever - Releasing tension on a band saw, especially if you change blades frequently, can be a hassle. A tension-release lever disengages a blade instantly. To install, you must remove the top wheel, housing and the existing tensioning assembly. The lever's gearing mechanism is then inserted onto the upper casting and bolted into place (some drilling of the casting is required). Reassembled, the existing tension rod now rests atop a piston on the gearing mechanism. You still adjust the tension with the knob, but you can then engage and release full tension quickly by pulling the lever. A tension-release kit costs about $160.
Bearing-style guides -Those metal guide blocks in your saw's guide assembly create friction and heat, which can prematurely wear the blade. Constant rubbing, especially when the blade flexes, can also be on the noisy side. Guide assemblies with roller bearings replace your existing guide. They feature adjustable wheels that ride the blade smoothly, resulting in lower friction and noise, with improved blade tracking and handling. Assemblies are sold both individually and in upper/lower sets and come in both machine-specific and universal-fit versions. Installation is very simple and, with the exception of removing existing guides, requires no machine disassembly. Typical pricing for an upper and lower set is $80 to $150, depending on the manufacturer.
Saw table - Let's face it, the stock tables on just about every band saw are tiny. For resawing lengthy stock or cutting curves in visible-m-inlineops and other furniture components, you're faced with a constant balancing act keeping the work flat on the table. A replacement table bolts or clamps right on top of your existing table, and has a smooth laminate top for low friction (and no rust!). Some will come with inset miter slots and T-tracks for miter gauges and other accessories. Some versions include a T-track on the front edge that accepts an included rip fence. It measures a roomy 24" x 24", nearly tripling the real estate of the typical stock table on most band saws. Mounting it is easy and requires no machine disassembly, but keep in mind that the thickness of the table means you'll lose some of your saw's vertical cutting capacity.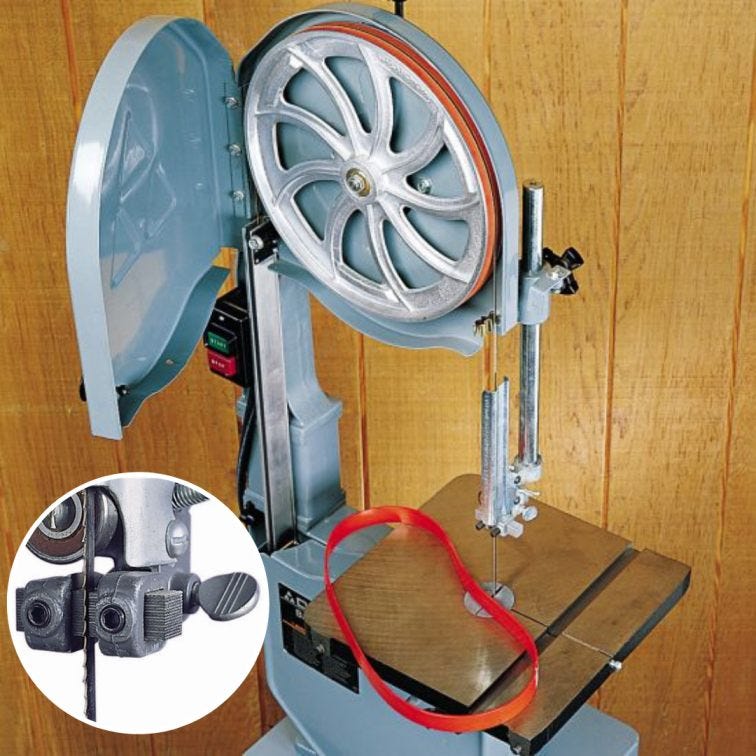 Quick, Easy Accessories
Not all improvements to your band saw involve altering the machine. The following ways to make your saw better are simply a matter of replacing the old with the new or just adding on. Consider replacing your old rubber tires with urethane ones which run quieter and better over their lifetime.
Urethane tires- The tires that came on your saw are a rubber compound that tends to harden and crack over time. Blades don't seat or track well on hard tires, so they must be replaced periodically. Urethane tires, however, stay supple and flexible for ages, and I've noticed that my saw runs quieter with them.
Installing them is a matter of prying off the old rubber tires (you may need to scrape a bit if your tires were installed with an adhesive, as some are). Soften the new urethane tires in some hot water, dry them off, stretch them into place on the wheels, and you're done.
They cost about $30 to $50 a pair, depending on size. Replacing your guide blocks with graphite-impregnated phenolic laminate Cool Blocks for reduced wear and friction to keep your saw from overheating.
Cool Blocks - A roller-bearing guide is the best way to control your blade, but if you lack the funds for those somewhat expensive items, you can still improve blade handling by simply replacing your stock metal guide blocks with Cool Blocks. These replacement guide blocks from Olson are made of graphite impregnated phenolic and slip right into place where the old ones were; installation literally takes less than a minute.
The blocks lubricate the blade for low-friction blade handling and tracking, reducing heat buildup and extending blade life. Depending on the style your saw requires, they sell for around $15 to $20. A similar option would be Ceramic Guide Blocks
For easier tension adjustment, many bandsaws will do well with an improved crank handle, most of which can be purchase for less than $20.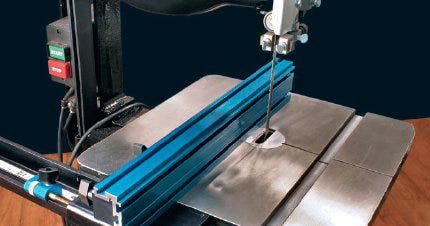 Tension crank - Even if you upgrade your saw with a quick-release lever, you still have to set the tension with your machine's stock adjustment knob/rod assembly. Twisting that knob can be a pain, sometimes literally. If the knob is mounted low on the housing or you have large hands, scraped knuckles are common.
Further, because of the high angle location of the knob, it's not always easy to use. Tension cranks reposition the action above the upper blade housing cost about $15 and have a universal fit for most 14" saws.
Adding a rip fence, can help you guide stock through the saw and it's adjustable to to compensate for drift.
Rip fences - Getting straight cuts on a saw is easier with a fence, and the band saw is no exception. There's a wide range of fences available for band saws, either from your saw's manufacturer or third party suppliers. Most require drilling to mount but are otherwise easy to install.
Any fence you consider should be adjustable for drift, a phenomenon common to virtually every band saw where the blade doesn't track exactly parallel to the direction of feed. Adjusting the fence angle slightly compensates for this; adjustment is by means of a setscrew, knob, or wrench. Check fence alignment frequently — especially after changing blades — because the actual amount of drift may, well, drift from blade to blade. Prices for rip fences are all over the board, but expect to pay $40 to $60 for a basic fence; a precision fence like the Kreg Precision Band Saw Fence shown above goes for about $115.
Even without a rip fence, a resaw fence, like this MagJig from Magswitch, can improve stock feeding through the bandsaw.
Resaw guides - It's impossible to do a good job of resawing without proper support and guidance for the workpiece. Even a good rip fence isn't always the best solution, since you can't adjust feed angle on the fly as needed while resawing. A resaw fence works by offering a single point of contact for the workpiece, ensuring perfect verticality but allowing the feed angle to be adjusted from side-to-side slightly to keep the blade right on the cut line. Resaw fences are designed to either attach to a rip fence, or function independently mounted on the table. The MagJig resaw fence features a pair of easy release rare-earth magnets that securely grip your saw's iron table. It sells for about $35.
Tension gauges - Proper tension must be applied to band saw blades for optimal performance. However, the tension scales on most saws are not only difficult to read correctly, but only offer a general representation of a blade's tension based on blade width. Set a blade's tension too loose, and you get a wobbly blade with tracking issues. Tension the blade too much, especially thin blades of 1/8" and 1/16", and you'll be snapping blades in use — never a pleasant experience. Overtensioning may also pull the saw out of alignment and can weaken tension springs. Gauges designed for band saws give dead-on tension measurements for enhanced performance and blade protection. Analog style gauges clip onto the blade to measure tautness, while digital gauges install beneath the tension knob/rod assembly. Both kinds sell for $150 to $200, but analog types, because they're not mounted permanently to the machine, may be used on multiple saws if you have more than one.
Digital angle guide - Although not specifically a band saw accessory — a digital angle gauge can be used on any machine with a table — I wouldn't set my band saw's table without one. Built-in angle scales on most machines are notoriously inaccurate, and I never trust them. These digital gauges have a magnetic base, and setting the table is a two-step process. First, zero the gauge against the blade. Then place it on the table and adjust to the desired angle. Easy. Several brands are available — all of them nearly identical — selling for $30 to $40.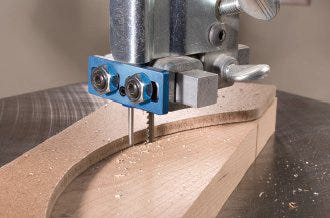 Duplicating pin - If your project involves cutting several duplicate curved components, a duplicating pin like the one from Rockler allows you to use cutting templates with your workpieces.
The pin mounts easily to your saw's guide assembly and, with a template attached to your workpieces, turns out identical components one after another. It costs less than $10.
Even your tool is going to cast shadows in a well lit shop, so a magnetic task light can be an essential aid for following cutting lines easily.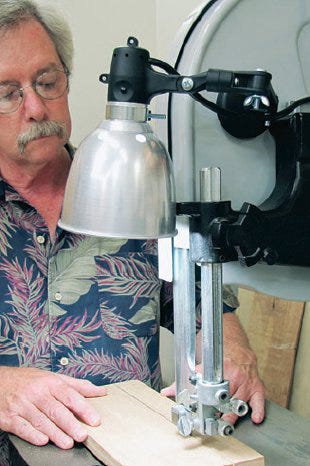 Task light - Like the digital angle gauge, here's another accessory that can be beneficial almost anywhere in the shop.
However, because so much cutting on the band saw is done freehand by following a cut line, extra light really helps visibility, especially on dark-colored stock where lines are hard to see anyway.
Some lights come with a clip-on or magnetic base (or both), and prices vary widely. I got the light I'm using at a local hardware store for $19. Some higher-quality options include:
Rockler LED Work Light w/Spotlight Head
iGaging Magnetic LED Work Light w/Flexible Arm
Magtite Base Work Light
To keep your shop uncluttered and let your bandsaw move to where you want it, a visible-xs-inline base, like this one from Shop Fox, can be a handy addition.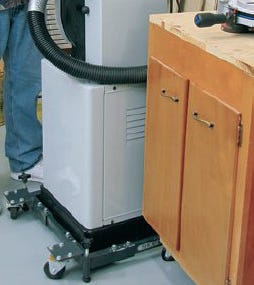 Mobile base - Last, but not least, is another general shop accessory that's perfect for band saws: a visible-xs-inline base. I find that for 90 percent of the cuts I make on the band saw, I can keep it nestled in the corner of my shop.
But, for larger workpieces, having my machine on wheels lets me roll it out onto the shop floor for lots of extra cutting clearance. Cutting done, it rolls back to its usual out-of-the-way spot. Some options include:
Power Tool Mobile Base Hardware
Rockler All-Terrain Mobile Base
HTC 2000 Universal Mobile Base