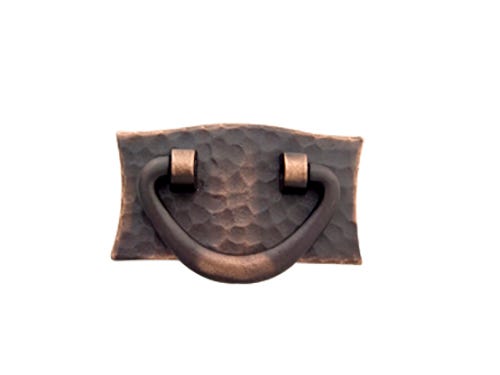 Whether you are updating existing cabinetry or finishing off a new cabinetmaking project, selecting knobs and pulls is your chance to add a touch of your own individual style.
There are no specific rules in selecting hardware, but there are a few common practices to be aware of, and a few things to watch out for. In this article, we'll touch on the most important considerations when choosing new cabinet hardware.
You might not think there would be much to know about something as straightforward as a knob or a pull. In reality, there are a few things you should - and may not - know. You'll find it easy to avoid common pitfalls once you have a handle on the knob and pull "basics".
Handles, Knobs and Pulls
Cabinet opening/closing hardware follows a simple set of terminology: "Handle" and "pull" generally refer to a hardware item with two mounting points (two screws attaching it to the surface). A knob typically refers to an item with one attachment point. The most common arrangement of kitchen cabinet hardware is to pair knobs with the cabinet doors and pulls with the drawers, but this is definitely not a hard and fast rule.
Hardware with two attachment points is sometimes used with cabinet doors. Interestingly, "handle" is the term most often used to describe a piece of hardware with two attachment points when it's mounted on a cabinet door, whereas "pull" is the term that would be most commonly used to describe the very same item if it were attached to a drawer.
Center to Center Dimension
The center-to-center attachment dimension is the most important piece of technical information to know about a pull. This dimension tell you how far apart the centers of the two mounting holes in the cabinet door or drawer front need to be to match up with the threaded mounting holes in the pull. The center to center dimension goes by a number of names: You may find it listed as "center-to-center", "c-to-c", "centers", or "boring".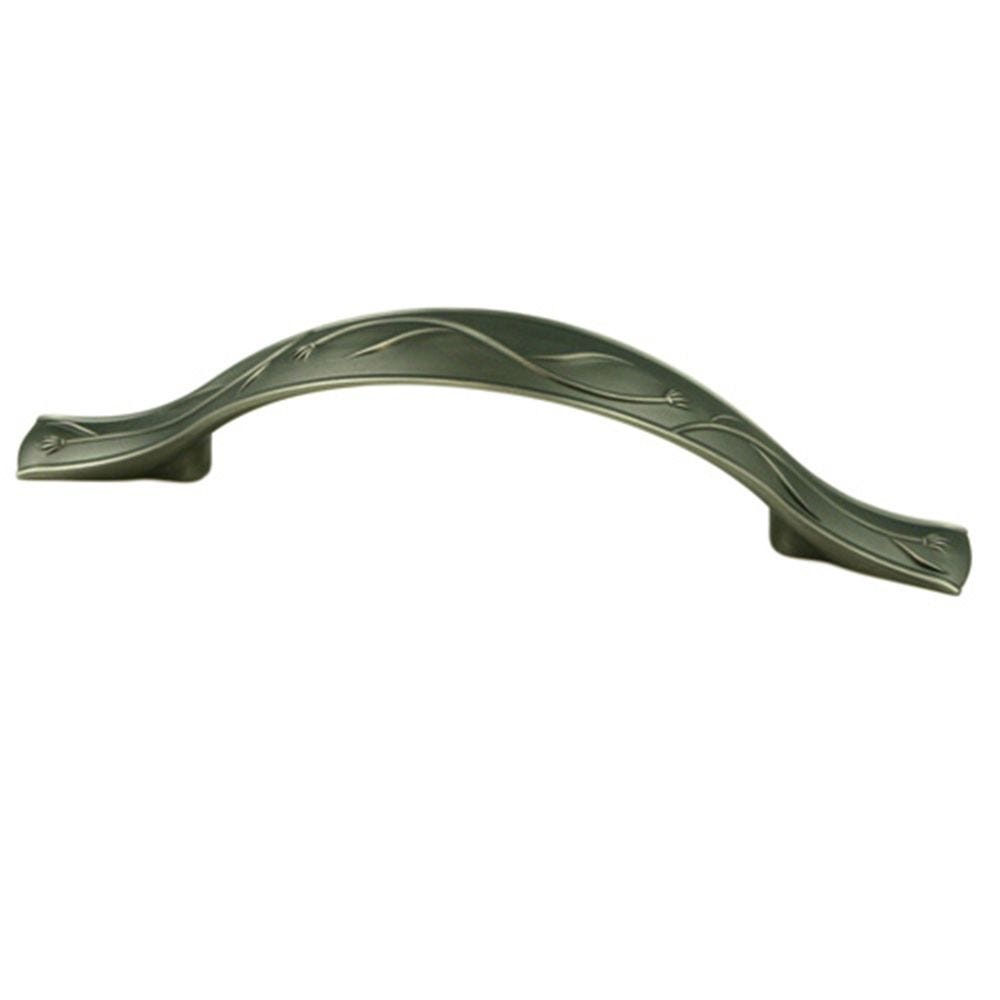 Center-to-center dimensions are NOT UNIVERSAL among pulls! This is very important to note if you are planning to put new pulls on an existing set of cabinets: If the cabinet doors and drawers already have holes for pulls, you will either have to find new pulls with the same center-to-center dimension, or drill at least one new hole to accommodate pulls with a different center-to-center dimension.
Changing center-to-center dimension when replacing pulls presents a few problems: First, you end up with one too many holes in the cabinet door or drawer front. On cabinets with a natural wood finish, the extra hole can be difficult to disguise, even with careful filling and color matching. Second, the difference in the center-to-center dimensions between one pull and another is often small enough to cause trouble when you attempt to position the pull and drill new holes - you may find yourself needing to drill "half of a hole", which is not especially easy to do.
Choose a Style
Generally, the preference is to match the style of the knob or pull with the style of the cabinet. To most eyes, Arts and Crafts Movement Hardware just seems to "go best" with the simple geometry and down to earth style of Arts and Crafts furniture. You might raise a few eyebrows if you matched an ornate historic reproduction pull with a modern-looking flat panel melamine door. On the other hand, a (well considered) departure from the usual design "rules" is sometimes just the thing to liven-up and otherwise uninspiring set of cabinets. The choice is really up to you.
Buying and Installing Knobs and Pulls
Here's a short checklist of things to consider when you are ready to buy and install your new knobs and pulls:
Buy More Than You Need
Count carefully, and buy at least one more of each style of knob and pull than you actually need. Knobs and pulls are occasionally discontinued; you could live to regret a decision to buy exactly as many as you need if one of your new knobs and pulls is lost or damaged at some point down the road.
You May Need to Buy Screws Separately
As strange as it sounds, it's not uncommon for the mounting screws that come with your knobs and pulls to be the wrong length. This happens most often with drawer hardware. Cabinet drawers are constructed by a variety of different methods, and the distance from the inside surface of the drawer front - where the screw head seats - to the outside surface varies depending on the type of construction.
Unfortunately, manufacturers don't always take this into account in deciding what type of screws to include with a piece of hardware (and don't always supply the dimensions of the screws included in product information, either). One way to sidestep a potential delay in installing your new hardware is to simply measure the distance from the inside surface of the door or drawer front to the outside surface, add 1/4", and order Drawer Pull Screws of the correct size when you order the knobs and/or pulls.
Have the Right Mounting Tools On Hand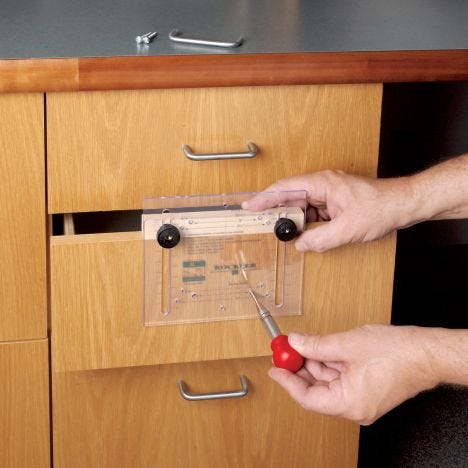 At minimum, you'll need a drill, a 3/16" drill bit (the recommended size for most knobs and pulls) a screwdriver and a tape measure to mount most types of knob or pull. Accurately measuring and marking an entire kitchen's-worth of cabinets with nothing more than a tape measure and a pencil, however, is a time-consuming, awkward task - much more so than it needs to be. An inexpensive hardware mounting aid, like the Rockler Drawer Pull JIG IT, can cut your hardware mounting time in half.