Wood and acrylic are the most common materials used when turning a ring. But that doesn't mean you are limited to those materials. Sometimes it's fun to experiment with other materials in your turning projects. Peter Brown is known for pushing the limits of turning materials. In this case, he used crayons and real snakeskin to make two unique rings. First, he used our Stainless Steel 2-Part Ring Core and a set of crayons to create a colorful ring. Next, he mixed pieces of snakeskin and epoxy to create a micarta, or layered material, turning blank. Learn how he created these rings in his video below.
VIDEO: Peter Brown Makes Rings from Crayons and Snakeskin

Peter mounted a Stainless Steel 2-Part Ring Core on a Ring Turning Mandrel. Then he melted several different color crayons into the inset in the ring core. He shaped the cooled crayon and applied a coat of epoxy as a top coat.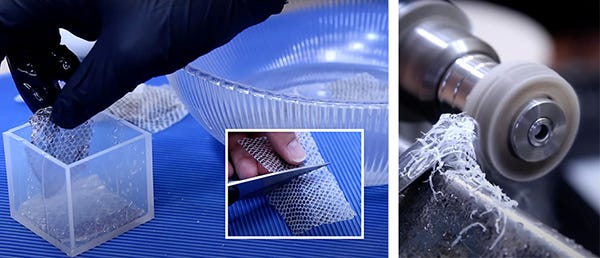 Peter created the turning blank for this ring by layering pieces of snakeskin (purchased separately) in Deep Pour Epoxy. He then turned the blank and inserted a Titanium Comfort Ring Core. He finished turning, polishing and finishing the ring with the core mounted on a Ring Turning Mandrel.