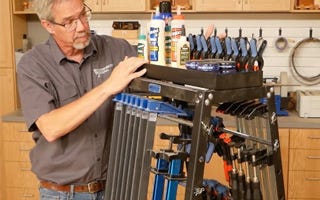 Rockler's mobile clamp rack storage system has long been a customer favorite. But, as the saying goes there's always room for improvement and our product development team couldn't resist the opportunity to make the pack rack system even better! Meet the Pack Rack Plus, mobile clamp and tool storage system. Rolling clamps around your shop is just the tip of the iceberg when it comes to uses for this system!
The New & Improved Rockler Pack Rack
With vast amounts of interior space and a few simple add-ons, it also accommodates a huge variety of tools and supplies. Best of all, it smoothly rolls wherever you need it most, keeping everything you need close at hand and neatly organized. Use the
Shelf Hooks
(sold separately) to make your own wooden shelves, or buy any of the optional Trays for neat organization of small items like
hand tools,
glue, hardware,
router bits
and drill bits. Store your compressor and other bulky items on the
Steel Bottom Shelf
(sold separately). You can even suspend your Wall-Mount Dust Collector on the inside with the
Dust Collector Bracket
(sold separately).
---
Customer Verdict on the Original Rockler Pack Rack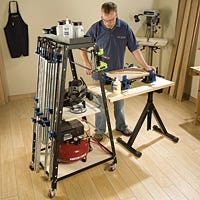 Over 10 years ago Rockler introduced the original Pack Rack, a unique, self-contained clamp and tool storage system on wheels. The reasoning behind this new addition was simple: many of us here at Rockler know from experience that storing a highly developed collection of clamps can be a substantial and compelling woodshop challenge, especially in close quarters where space is at a premium. Taking a leap, we guessed that a storage solution offering a compact and portable means of taming an out-of-control clamp collection would be a welcome addition in woodshops across the country.
Turns out, we were right. In the short while since its introduction, we've seen a surprising number of Pack Racks leave the warehouse. And we've been further encouraged by the rapidly amassing votes of approval we find in customer reviews like these:
"Build your own clamp storage rack? I never seemed to get the time to actually do it. Buying the Pack Rack was an answer to scattered clamps around the shop. The rack went together very well and is certainly up to the challenge of storing clamps regardless of what they weigh. I ordered some additional pieces in order to customize the basic stand and was completely satisfied with the results. My stand is loaded with heavy bar clamps, pipe clamps and everything else in between. The stand is very sturdy, extremely portable and has allowed me to organize and be able to find the right clamp for the job. - Submitted by Fred Wood, from Lititz, PA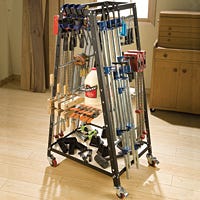 "When I first completed my dedicated shop space (a single car space walled off from a 3-car [2 in tandem] garage with AC added), I thought I had great idea. I had added a large pegboard area and dedicated a part of it for clamps using long hooks. Until some heavy clamps threatened to rip down the pegboard.
Enter the Rockler Pack Rack. It solved the problem beautifully, without further adding to the crowded conditions in my all-visible-xs-inline-equipment shop, and helping avoid tool clutter. As is my custom, I had carefully researched the competition and the possibility/probability of building a fixed rack. I am not in the least disappointed with the purchase. In about 2 hours after delivery, I had assembled the rack and gathered up all of my wide selection of clamps even including some mini-clamps from an old period of wooden model ship-building before woodworking returned to its prime position in the retirement era. An excellent product. - Submitted by John Hoyt, from Tucson, AZ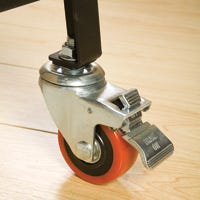 "One of the best pieces of shop equipment I have purchased in a while. I no longer have clamps leaning in every corner of my shop, nor do I have to look around for the correct clamp. I put a shelf on the bottom and top which hold quite a bit of other stuff. Will add another shelf in the middle soon. The casters are great! - Submitted by David Deas, from Citrus Heights, CA
"As a carpenter contractor/woodworker, as soon as I laid eyes on the Pack Rack, I knew it would be perfect on the job and in the shop! - Submitted by Tim Schaefer, from St. Leon, IN
If your read the rest of the Pack Rack customer reviews you'll notice a couple of recurring themes:
The importance of following the instructions no matter how much it goes against your nature.
The Pack Rack is very easy to assemble if the proper sequence is followed. We're glad to see that emphasized. Design considerations required that the assembly process follow a fairly strict routine. Still, the Pack Rack was designed with the assembler in mind, and the procedure is clearly laid out in the instructions & Unless you're the most ardent instructions-scoffer, you won't have any trouble getting the Pack Rack put together.
The build versus buy debate. Designing and building clever and effective tool storage systems is an ever-popular woodshop pastime, and one that we would hate to discourage. Many woodworkers have a great time building things for their shop. But before you build your own, take a minute to think through the cost, time and likely outcome. You might come to the same conclusion as G. Woods, from Cary, NC:
"I am a classic do it your self guy. First time I laid eyes on this I knew I needed one and thought, now I can make that. I priced out all the parts from local home improvement and quickly decided to order the real thing. It was so easy to put together, nice paint finish and well thought out arrangement.
Or Steven Sorensen, from Santa Ana, CA:
"Even though clamp storage is a typical magazine DIY project, due to the great amount of weight that can be involved, going with a beefy metal rack is the way to go. Made out of wood, it would be visually very massive. Fully loaded, this slim-lined cart is still easily moved about, and can be easily customized.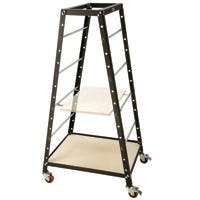 The customizability Steven mentions is something the Pack Rack designers didn't exactly plan but are nevertheless happy to acknowledge. One Pack Rack reviewer added (among other things) drawers mounted on full extension slides and a section of pegboard in order to keep all of his most reached for tools close at hand. The result?
"No more tripping over clamps. No more wasted time searching for the tape measure or some other small tool. And when I tuck the whole thing in the corner for the night, I say to myself, 'Man, this is great! - Frank Fletcher, from Madison, AL
The customized Pack Rack reaches an unexpected and, we think, particularly inventive expression in the turning tool/miter gauge cart you see below. It's the work of Blake Hansen, from San Carlos, CA, who submitted the image just a few days ago along with these comments: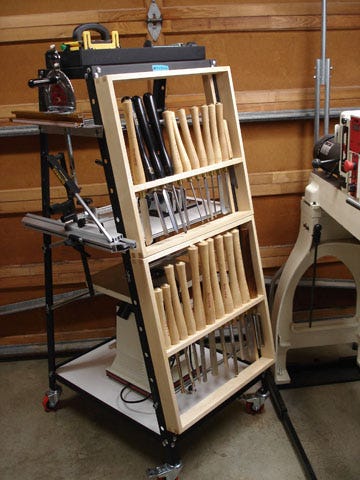 "When I first saw the pack rack system, I immediately recognized the possibility of using it as the platform for building a visible-xs-inline storage system for my lathe tools and miter gauges. The rack pack is very sturdy and stable. Building the upper and lower lathe racks out of maple was fairly straightforward, using the cross rods as the anchor points. The individual miter gauge holders are also attached to the cross rods and made from 1.5 aluminum angle that I picked up at the local DIY store. The melamine shelves also come from the DIY store, along with so .25"x 1" aluminum stock to make the upper shelf cross brace.
As unexpected as it is, we heartily encourage any exploration of the Pack Rack & potential for customization, and look forward to hearing about and seeing the results. The only possible problem we can foresee is minor: we may have to change the official name from the Pack Rack Clamp and Tool Storage System to something more general. The Whatever It Is In Your Shop That Needs Organizing Storage System, maybe? (We'll work on that.)