According to our survey results, over 94 percent of woodworkers own a table saw. But the type, size and configuration of those saws varies significantly.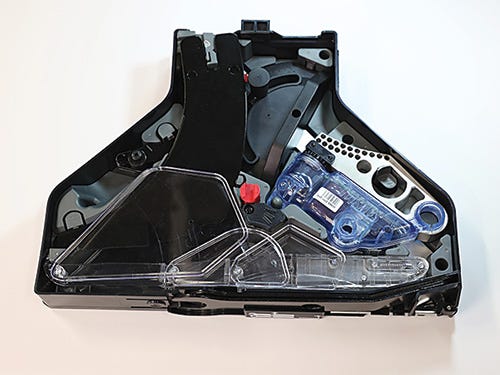 Whether it be full-sized cabinet saws, hybrid saws, contractor's saws or jobsite saws, woodworkers have a wide range of options that allow them to consider all sorts of details — price, room in the shop, woodworking tasks ... the list goes on. Adding to that list is saw safety. After the introduction of SawStop's remarkable blade brake technology to the marketplace, their products have changed the game for injury prevention.
SawStop 10" CTS Compact Table Saw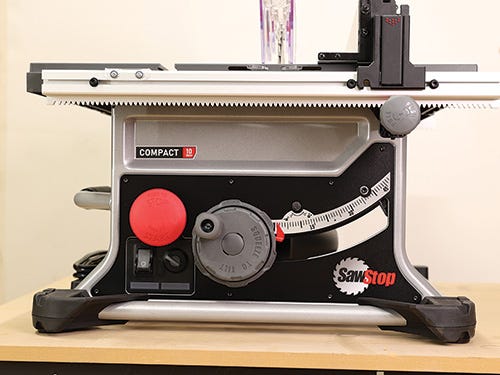 Which leads us to preview the company's latest offering: the SawStop CTS 10" small footprint jobsite saw. It has their blade brake technology (the patented AIM system) as you would expect.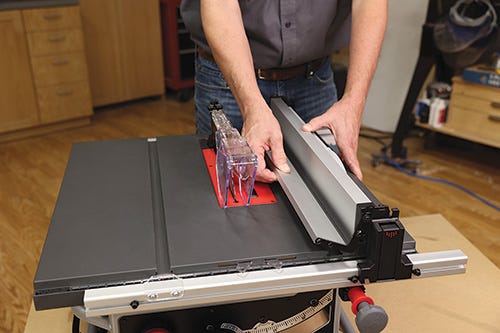 But this model also has plenty of standard accessories: a miter gauge, fully functioning riving knife, a very solid blade guard with spreader and a push stick mounted on the fence. The saw is sold without a stand, but a folding option is available for it.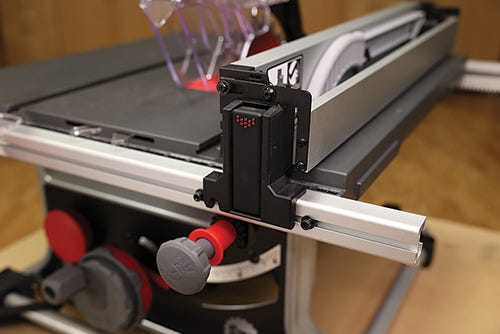 Its rack-and-pinion rip fence is easy to use and removable. Depth of cut is 3-1/8" at 0 degrees and 2-1/8" at 45 degrees. A 15-amp, 120-volt power plant spins the saw blade at 4,000 rpm.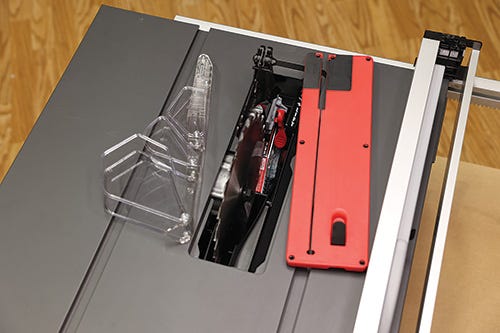 The saw does not accept a dado set, but it uses full-size 10" saw blades, either thin kerf or full thickness. And it is truly portable, thanks to a tubular steel frame with rubber feet, for lightweight but durable and stable cutting. At 68 lbs, even an old pro can pick this machine up to move it around.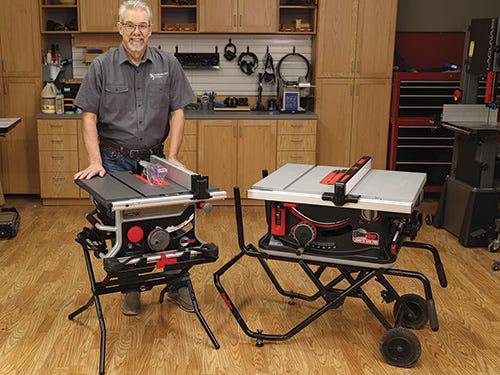 Additionally, the saw has a helpful storage unit mounted to the back that's easy to remove. It holds a variety of components — riving knife, anti-kickback pawls, blade guard, spreader, etc. — as well as an extra brake cartridge (sold separately). SawStop's CTS 10" table saw currently retails for $899.