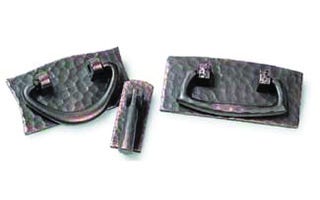 Gustav Stickley's influence has inspired woodworkers of all skill levels. For Stickley, construction and decoration were inseparable. He respected the ancient crafts, and filled his factory with metalsmiths trained in Old World traditions. His workshops made and offered hardware in a variety of metals - iron, copper, brass and pewter - as well as, sometimes, in wood.
Hardware originally designed by Gustav Stickley is still available today, exclusively from Rockler.
Pyramid-shaped pulls or wooden knobs were less expensive for his customers, and were used more frequently in "non-public" areas of the house like the kitchen or bathroom. Shower rooms generally had hand-hammered copper or iron hardware for pulls and hinges.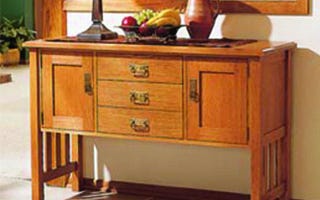 Strap hinges were a predominant style, while the pulls tended to be of the ring bail variety. The iron was in the Old World "armor bright" finish, while the copper and brass went through a firing method that produced a texture, but were left unlacquered.
Just as Stickley believed in letting age darken the wood in his pieces, he also said, regarding hardware, that age and exposure were the only agents "required to produce beauty and variety of tone." For today's woodworker completing a Mission style project, the hardware is the final touch -- both functional and decorative.