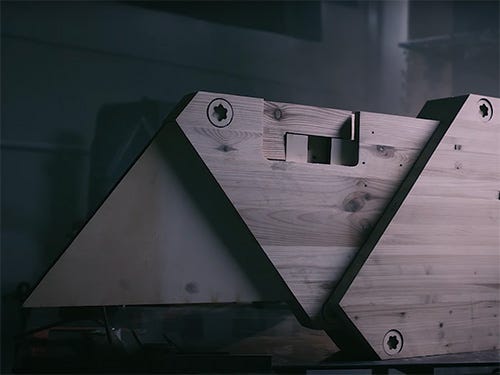 In this video, Paul Jackman makes a real, usable utility knife...that's sixteen times the size of a regular one.
Paul Jackman visits his friend Giaco to build a massive version of Giaco's utility knife. It's a 16X scale, 8' replica made from European pallet wood, and it actually works. Check out how they did it in this video.
You can find more great projects and techniques from Paul Jackman at his website.
Featured Tools:
Paul Jackman: Hey, guys, guess what? I can build with material other than pallet wood, European pallet wood.
What's up with the change of scenery? Well, I visited my friend Giaco earlier in the year to build some stuff and hang out with him in his shop in Italy. If you haven't checked his channel out yet, you're seriously missing out. He's one of the few maker channels who's really inspired me to push my videos to the next level. Giaco is the man behind the Maker Knife, a super sexy utility knife that he designed and manufactures, so I really had no choice but to create this beast.
I built it at a 16-time scale, which when the blade is extended, is about 8 feet long or so. What's Giaco going to do with it? I'm back here, so it's his problem now. That's it for this one. Thanks, as always. I'll see you next time.