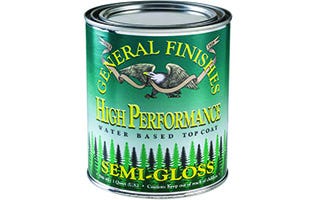 Woodworking Myth: You should never put a water-based finish on top of an oil-based finish. Jim Carroll explains why it's not only acceptable to use a water-based finish over and oil finish – provided you do it correctly – but that it can be the best solution when you want to bring out the natural character and color of the wood.
Through trial and error I've found that to bring out the natural beauty of the wood, using an oil finish first is a must. I prefer to use the General Finish Clear as the base coat. It's amazing to see how some species react. A seemingly plain looking piece of maple can take on an entirely different look once the oil hits the wood.
I prefer to leave the base coat of oil air dry for at least 2 weeks. With the difference in weather it can vary widely. Once the finish is fully cured, I rub out the finish with a 320 grit sanding pad. The rule of thumb is "lightly". Because of the number of boxes I make and working in my basement I prefer to try and keep the odor minimal by using a water-based top coat.
I use the General Finish High Performance Polyurethane top coat. It's easy to spray, builds quickly and dries fast, ready for sanding and a second and third coat (or more). One of the things I learned is that you can't hurry finishing. When you take the time to build something well, don't rush through the final step!