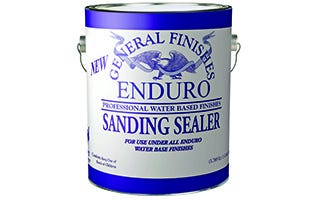 What is "sanding sealer" and what's it good for? Woodworking expert Michael Dresdner offer's a quick lesson on the properties and uses of sanding sealer to a Woodworker's Journal newsletter reader who wanted to know when it should be used and whether it would make a big difference to the end result.
Woodworking Question: In all my years of finishing and refinishing furniture, I have never used sanding sealer. When and why should it be used, if at all? Will it make a big a difference in the end results of my projects?
Expert Answer from A. Michael Dresdner: "Sanding sealer is never mandatory. It is an option that saves time and material in some situations, and is unnecessary in others. Some woods, like cedar, spruce, and poplar, are so porous that they tend to suck up the first few coats of sprayed lacquer as if nothing were applied. Other woods, such as walnut and mahogany, require a good bit of sanding to level the pores even when pore filler is used. In both cases, the material of choice would be something that builds up quickly and is very easy to sand. Enter sanding sealer.
Sanding sealer is lacquer, or some other basic coating, with zinc stearate added. The stearate, which is a soft, fluffy soap, adds loft to the lacquer, making it build up and fill in pores much faster. It also makes the lacquer softer, and acts as a lubricant when sanding, so that sanding sealer powders off quickly and easily. These characteristics make it ideal for trimming both the number of coats and the amount of time spent sanding them. This is especially helpful when you are trying to build a perfectly flat, pore-free finish. It is useless, in fact, counterproductive, for the open pore "natural" look finishes more popular today.
A Word of Warning
A word of warning is in order. The stearates make sanding sealer rather soft. If you put a hard, brittle finish, like lacquer, over a thick, soft one, like sanding sealer, it is much more likely to chip and crack. For that reason, if you use sanding sealer, stick to one or two coats at the most, and plan to sand most of it back off. For the same reason, and because it tends to shrink as it cures, it is not advisable to use sanding sealer instead of pore filler.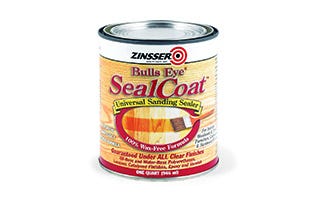 It's important to recognize that the term "sanding sealer" means different things to different wood finishers. Many people use nothing but a coat of dewaxed shellac as a sanding sealer. Zinsser SealCoat, a pre-mixed 2 lb. cut of crystal-clear dewaxed shellac, is one of the most lauded products in this category. It works great for sealing raw wood and as a barrier coat between two possibly incompatible finishes - like an oil-based stain and a waterborne top coat. It dries super-fast and sands very well.
What SealCoat doesn't do is offer lots of fast surface build. If you want a sealer that will help you stop up thirsty pores and smooth out the surface of the wood, you're better off with the stearated variety of sanding sealer mentioned above. General Finishes EF Sanding Sealer is a high quality acrylic waterborne sanding sealer that builds fast and makes sanding smooth and easy. For wood with large, open grain, such as walnut or mahogany, sanding sealer is especially handy as a final fill after most of the grain has been evened out with grain filler.