A full-featured mini CNC with a compact 12'' x 18'' table and an included touch-screen interface. Included software means you're ready to start machining as soon as your shipment arrives!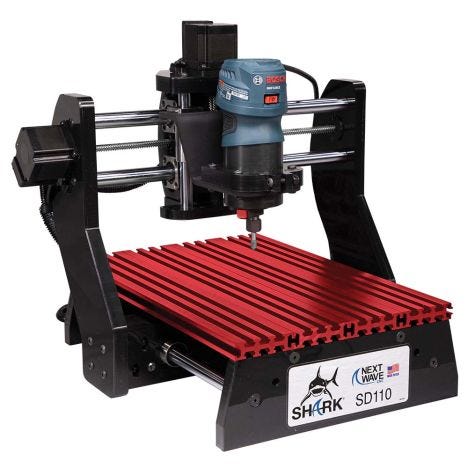 As low as $1,619.99 Regular Price $1,799.99
Additional Shipping and Handling Charge: $20
Router shown in image above is not included.
Requires a PC computer with USB 2.0 port or higher (not included)
Included router clamps fit the Bosch, Dewalt, and Porter Cable compact routers.
If you have received prior versions of VCarve, they are upgradeable to version 9.0.
Must be shipped within 48 Contiguous United States.
A 15% restocking fee is charged on all machines returned to Rockler.
If a machine is returned with a registered software, the customer is responsible for paying for that software as it is not returnable.
Returns accepted in the first 30 days, must be returned complete and in the original box.
No Returns on Software.
Please call customer service before returning product.

Tight on space but still want full CNC functionality? Consider the SHARK® SD110: compact, but designed with the ability to cut, carve and create like a bigger machine. The SHARK SD110 has a unique feature not found on the larger machines, the SD110 can travel an inch past the front edge of the bed to allow you to cut joinery in boards clamped to the front of the bed. The SD110 is the perfect desktop machine for carving or engraving a large variety of projects made from wood, soft metals, or plastics. The SD110 includes everything you need to get started including the latest version of Vectric's VCarve Desktop software and also carries an industry leading two-year factory warranty.
Features:
Table dimensions: 12'' x 18''
XYZ travel: 12'' x 13'' x 3''
Overall dimensions: 19-1/2''W x 20-1/2''L x 18''H
Aluminum interlocking slotted table track for customizable clamping
Includes the latest Vectric VCarve Desktop design software
Includes exclusive Virtual Zero (requires an optional touch plate accessory)
Color touch-screen pendant
Requires a PC computer with a USB 2.0 port (not included)
Requires a Bosch, Dewalt, Porter-Cable, style palm router (sold separately)
Includes 2 hold-down clamps
Ready2Control with patented Virtual Zero Unlimited software
Two-year warranty
Lifetime tech support
(1) Next Wave SHARK SD110
(2) Hold-down clamps
(1) Colored Touch Screen Controller
(1) Latest version of VCarve Desktop Design Software Package
(1) Dewalt 611 Compact router clamp
(1) Bosch 1HP Compact router clamp
(1) Bosch 1.25HP Compact router clamp
(1) V-Style router bit
(1) 2-Year Factory Warranty

With the Rockler Protection Plan you'll get accidental damage coverage immediately upon purchase of your tool. Plus we will extend the manufacturer's warranty for your choice of an additional 1 or 2 years. We'll take care of all parts and labor for any repairs with no deductibles and no hassles. If your tool can not be repaired we'll gladly replace it. Available in the US only. Click here to learn more.
Standard Manufacturer's Warranty: 12 months
More Information
Brand
Next Wave
Manufacturer Part Number
10001
Tech Spec

Table Dimensions: 12'' x 18''
XYZ Travel: 12'' x 13'' x 3''
Overall Dimensions: 19-1/2''W x 20-1/2''L x 18''H
Weight: 52 lbs
Voltage: 110 volts
Amperage: 3 amps