Purpleheart by the Piece-1/2" Thickness
Fully surfaced on all 4 sides to actual dimensions.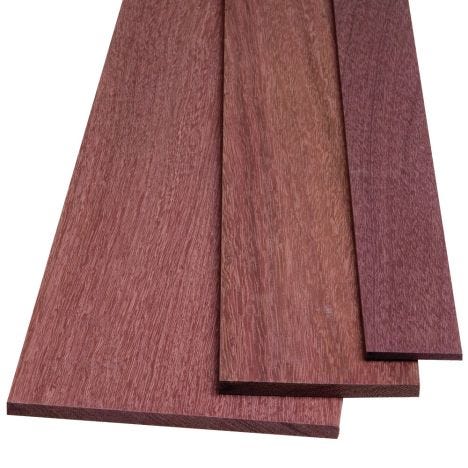 True to its name, purpleheart boasts vibrant purple heartwood, and a fine, satiny texture. Initially a dull brown, it takes on its brilliant tone shortly after the wood is cut. The sapwood is creamy, pinkish cinnamon. It has exceptionally high bending and crushing strength, is dimensionally stable, and is extremely resistant to decay. All boards are machined S4S to 1/8", 1/4", 1/2" and 3/4" thicknesses. Thin boards are well-suited for edging, veneering, marquetry, sides for decorative boxes, bending stock and bent laminations, while the thicker boards are ideal for furniture, paneling, cabinet doors, moldings, drawer sides, fine jewelry boxes and whatever else your imagination can dream up!
Lumber Details:
Alternate name: Peltogyne.
Tree: Usually tall, with a height of about 100 to 150 feet and a diameter of up to 48 inches, usually between 18 and 36 inches.
Heartwood: Initially dull brown, rapidly changing to a bright, vibrant purple. Prolonged exposure darkens wood to a dark-purplish brown or dark brown, but the original color can be preserved with a UV inhibitor. Color variation among boards is reported to be moderate to high. Presence of minerals in some boards may cause uneven coloration and steaming is reported to affect the color.
Light & Air-Induced Changes: Treatment against the effects of ultra-violet rays maintainss the original color of the wood. Treatment with Armorall, the car finish product, under lacquer is reported to hold the color well.
Grain: Typically straight, occasionally wavy or irregular.
Texture: Medium to fine.
Luster: Medium to high.
Movement: Very dimensionally stable.
Natural Durability: Highly resistant to attack by decay fungi, very resistant to dry-wood termites, and somewhat resistant to attack by marine borers. Also reported to be resistant to chemicals such as acids.
Cutting Resistance: Purpleheart is moderately difficult to saw. Tools usually require frequent sharpening. A reduced cutting angle of 15 degrees is recommended, especially when planing and moulding material with interlocked or wavy grain.
Nailing: The wood requires to be pre-bored, but nail-holding capabilities are reported to be good.
Steam Bending: The wood steam bends fairly well.
Strength Properties: Bending strength in the air-dry condition is very high, and crushing strength is exceptionally high. It does not mar or dent easily, and is very heavy and dense.
S4S - Surfaced Four Sides
Planed on top and bottom surfaces to be parallel.
Both edges are straight-line ripped perpendicular to top and bottom surfaces and parallel to each other.
This milling produces boards that are ready for your craftsmanship. All surfaces are parallel and square allowing ends to be cut square or at any angle you require. Boards with this milling can also easily be ripped to whatever width your project requires.
Great for all crafts, casework, furniture pieces, boxes, moldings...really any project!
(1) Purpleheart by the Piece-1/2" Thickness
More Information

| | |
| --- | --- |
| Species | Purpleheart |
WARNING:

Drilling, sawing, sanding or machining wood products can expose you to wood dust, a substance known to the State of California to cause cancer. Avoid inhaling wood dust or use a dust mask or other safeguards for personal protection. For more information go to www.P65Warnings.ca.gov/wood.