Store Location
Rockler Woodworking and Hardware
2154 Massachusetts Ave Cambridge, MA 02140
Phone: (617) 497-1136
Manager: Peter Robichaud - email
Store Hours
Monday – Friday: 9:30 AM – 5:30 PM
Saturday: 9:00 AM – 6 PM
Sunday: 11 AM – 4 PM
Holiday Hours
Labor Day: 9 AM – 4 PM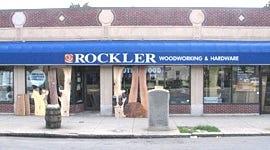 *Be assured that Rockler does not sell its e-mail lists to anyone, so your information is safe with us.



Class Overview: We offer custom-tailored classes in woodworking--you choose the date, time, duration, and subject! Topics include basic woodturning, advanced woodturning, sharpening, router techniques, power tool set-up, power tool techniques, joinery, and finishing. If you don't see the subject you'd like to learn about listed here...just ask! Some advanced classes are dependent on instructor availability.
Skill Level: Any
Date: You choose * contact our store
<p >
Class Fee:
$25 per hour for Beginners Classes. $50 per hour for Advances Classes
Voted Boston's Best of the A-list for a Hardware Store
Listed In: Hardware WBZ TV
Rockler Woodworking and Hardware
In 1954 my father, Nordy Rockler, started a mail order woodworking supply company in Minneapolis. It was then known as Minnesota Woodworkers Supply Company, and among the products featured in the first catalog were specialty wood veneers and hardware items such as knobs, pulls and table slides. Woodworkers responded positively to having a place where they could always get what they needed. We have been on the web since 1996, and are reaching more woodworkers than ever before! Whether you're a seasoned pro, a home–improvement enthusiast or a craftsperson, we believe you will enjoy browsing our online catalog, getting interesting tips through our email newsletter, and being the first to find out about some exciting new products! We are constantly on the lookout for new ways to make all your projects as fulfilling as they can be.
Hear From Cambridge Customers
Looking for Wood?
Why not come and "Take a walk through our woods".
We feature premium domestic and exotic lumber as well as hard-to-find veneers.
Career Opportunities
Would you like to turn your hobby into a career? Please see our Career Center for position details and how you can join our fun loving team!