Revolver Laser-Cut Inlay Pen Blank
Capture the spirit of the wild, wild West with the Revolver Pen Blank, featuring a 45 caliber pistol and your choice of a faux ivory or cocobolo grip.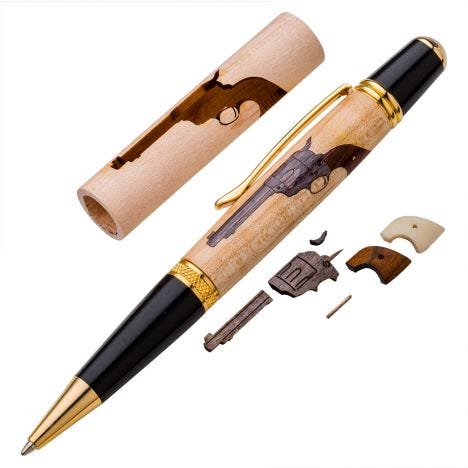 This blank is made up of a total of seven precise laser-cut wooden pieces, which are assembled into a depiction of a classic .45 caliber revolver. Included with the kit is the option of using either the faux ivory or cocobolo grip, depending on your preference. Each grip is secured with a long pin for the stock screw. The ''hair trigger'' and trigger guard are engraved into the pen barrel. Fits Manhattan and Elegant Manhattan style pen kits, sold separately.
(1) Revolver Laser-Cut Inlay Pen Blank
(1) Set of Instructions
More Information
Manufacturer Part Number
INL153-REV-SIE
Weight
0.066700
Tech Spec

Pen Blank Type: Laser-Cut
Pattern: Revolver
Material: Solid Wood
Compatible with: Manhattan and Elegant Manhattan Pen Kits