Rockler Corner Radius Routing Templates
Use these templates with a flush-trim bit to rout smooth, consistent corner curves in radiuses ranging from 1/8'' all the way up to 2''.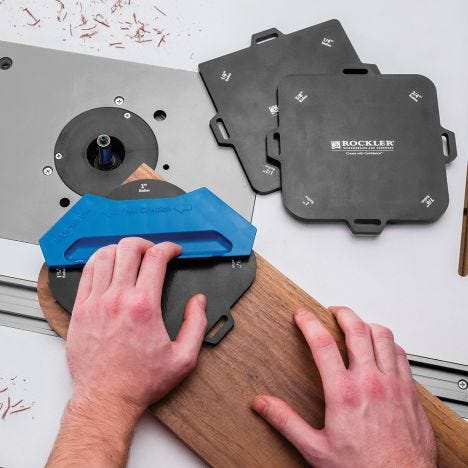 For larger radiuses, we recommend that the bulk of the waste be sawn off before routing.

Cutting a smooth radius to soften a 90° corner is fast and flawless with our Corner Radius Routing Templates. The templates can be used alone to draft a simple pencil line, or, better yet, you can click them onto the included handle and rout the radius on your router table with no need for pencil lines at all. The bottom of each template has grippy rubber strips, which, combined with the handle, provide a solid grip that firmly straddles the corner of your workpiece. You get a wide range of a dozen total radiuses: 1/8'' through 1'' radiuses, in 1/8'' increments, and 1-1/4'' through 2'' radiuses, in 1/4'' increments. They're the perfect solution for any project with quarter-round corners, such as the armrests on Adirondack chairs, bookcase end panels, table tops, wall-mounted shelves and more.
Features:
Templates click easily in and out of the included handle
Rubber strips help grip the workpiece
Radius is printed on each rounded corner for easy selection
''Feed Direction'' and ''Hold Here'' are molded into the handle for ease of use
Designed for use with a router table and a flush trim bit with a tip-mounted bearing (sold separately)
(1) Handle/Template Fence
(1) Radius Routing Template (1/8'', 1/4'', 3/8'' and 1/2'' radiuses)
(1) Radius Routing Template (5/8'', 3/4'', 7/8'' and 1'' radiuses)
(1) Radius Routing Template (1-1/4'', 1-1/2'', 1-3/4'' and 2'' radiuses)
More Information
Brand
Rockler
Weight
1.400000
Tech Spec

Template Material: 1/4'' thick ABS
Handle Material: Glass-Filled ABS