Rockler Router Bit Center/Depth Gauge
Quickly set your router table fence a precise distance from the center of the bit—also works as a depth gauge for bits and blades.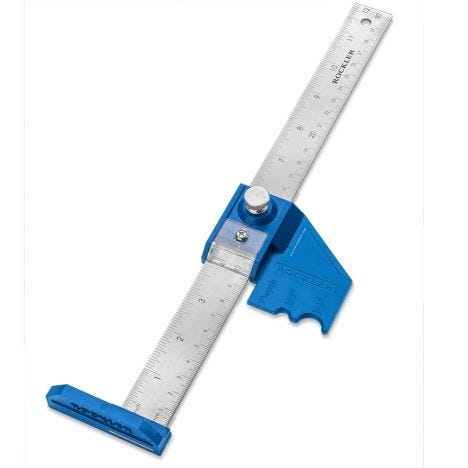 When setting up your router table or freehand router, there are two primary adjustments to make: the fence distance and the bit height. Our Center/Depth Gauge makes setting both easy and accurate. Just set the hairline indicator for the distance you need from the fence to the center of the bit, hook it onto the bit shank, then slide the fence over until it touches the gauge. To use it as a height gauge, simply set it at your bit height, lay the foot flat on the table and raise the bit until it touches the arm. Half-round notches let you register the gauge to the center of 1/4'' and 1/2'' shank router bits. Alternatively, you can use the ''depth'' portion to measure to the edge of the cutter, rather than the middle of the shank.
Features:
Easily set your router table fence a precise distance from the center of your router bit—ideal for routing dados and flutes
Also doubles as a height gauge for setting the heights of router bits and blades
Half-round notches register to the center of 1/4'' and 1/2'' shanks
Broad foot rests against router table fence, and is offset so the fence opening isn't a problem
Hairline indicator adjusts for dead-on accuracy
12'' long steel ruler features metric and imperial measurements
Nylon-tipped knurled knob secures gauge without marring ruler
(1) Rockler Router Bit Center/Depth Gauge
More Information
Brand
Rockler
Weight
0.550000
Tech Spec

Length: 12''
Ruler Material: Steel
Graduations: Metric and imperial