One glance is all it takes to find the lumber and moldings you need—closely spaced shelves minimize the need to stack and unstack.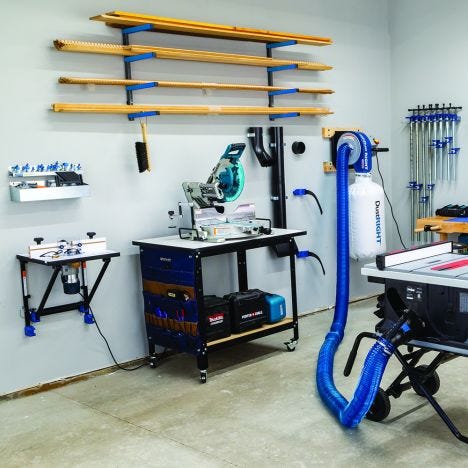 A shop well-stocked with lumber is a beautiful thing—unless, of course, the lumber is so jumbled you can't find what you need. Cut through the chaos with our sturdy tiered lumber racks. Each shelf holds up to 110 pounds and offers just over 6'' of vertical space, minimizing the need to stack and unstack to find the piece you need. Of course, you can also use them to store long or unwieldy items like skis, ladders, sawhorses, long pipe clamps and much more. In any case, your items will be kept clean, dry and off the ground, maximizing precious floor space in your garage, shop, shed or basement.
Features:
Shelving system keeps lumber, molding, pipe stock and more neatly organized, easily accessible, and away from dirt and moisture
Powder-coated steel construction for strength and durability
Also can store skis, sporting equipment, ladders, sawhorses and other long or unwieldy items
Each level holds up to 110 lbs. of material
Mount uprights to wall at the spacing that suits your needs (up to 6' between uprights)
4-tier version has 25'' uprights, 6-tier version has 41'' uprights
Each shelf has 11-13/16'' of storage depth
Note: Secure to the wall with fasteners appropriate to your application (not included).
Rockler Lumber Rack
(2) Uprights
(8 or 12) Shelf supports
More Information
Brand
Rockler
Tech Spec

Material: Steel
Weight Capacity per Level: 110 pounds
Shelf Depth: 11-13/16''
Vertical Space Between Shelves: 6-1/4''
Height: Approximately 25''
Recommended Spacing Between Uprights: 4' to 6'
Vertical Height: 25'' (4-tier version); 41'' (6-tier version)