Saw Blades for Festool TS 55
Choose from a range of blades to suit your application—all feature carbide teeth for clean cuts, and laser cut expansion slots for reduced vibration.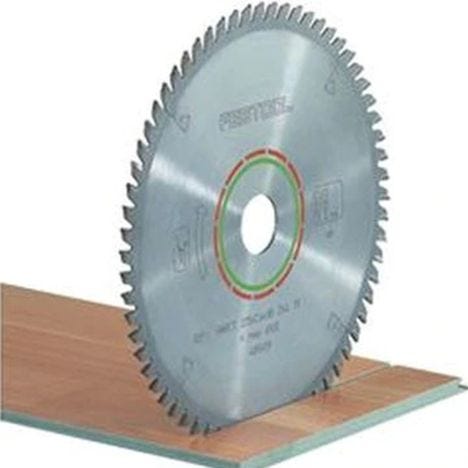 Festool saw blades are engineered and designed for cutting efficiency, long-life, and superior cutting results. All feature a thin kerf for less resistance and less waste. Laser cut expansion slots reduce vibration for faster, quieter cutting. An oversized 20mm arbor enables more secure fastening of the blade to the saw, further reducing vibration for more precise cutting.
(1) Saw Blade for Festool TS 55
More Information
Brand
Festool
Tech Spec
48-Tooth Solid Surface/Laminate Saw Blade for Festool TS 55 (496309)

Chip Angle: 4 °
Diameter: 6-1/4'' (160 mm)
Cutting Width: 2.2 mm
Hole Diameter: 3/8'' (20 mm)
Number of Teeth: 48
Tooth Shape: TC

28-Tooth Universal Saw Blade for Festool TS 55 (496304)

Tooth Count: 28T
Kerf Width: 2.2mm
Hole Diameter: 20mm
Hook Angle: 15°
Tooth Pattern: ATB
Blade Diameter: 6-1/4'' (160 mm)

48-Tooth Fine Crosscut Saw Blade for Festool TS 55 (495377)

Tooth Count: 48T
Kerf Width: 2.2mm
Hole Diameter: 20mm
Hook Angle: 5°
Tooth Pattern: ATB
Blade Diameter: 6-1/4'' (160 mm)