Zona Soft-Grip Hobby Knife with #11 blade and Replacement Blades
Precision knife cuts a wide range of materials, from paper to balsa—includes a cap to protect the blade and your fingers. Ground to a razor edge for surgical precision—great for general cutting and light-duty carving in a range of materials. This Precision Exacto like knife cuts a wide range of materials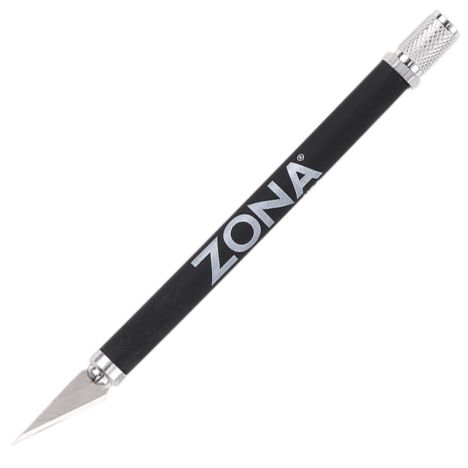 Zona's precision razor knife cuts a wide range of materials, from paper and cardstock to balsa and veneers. This exacto like knife is great for scoring and cutting veneer for marquetry projects. The soft-grip handle offers comfort and control, while a hexagonal ferrule on the butt end helps to prevent the knife from rolling off the bench. Read blade release mechanism holds blades securely. Includes a cap to protect the blade and your fingers, and a single #11 blade (additional replacement blades available separately).
Features:
Light-duty knife with anti-roll ferrule and soft-grip handle for comfort and control
Rear blade release holds #11 blades securely
Safety cap helps protect blades and fingers
Keep your cuts sharp and well-defined with a fresh pack of five #11 blades, the most common blade used in hobby knives. Ground to a razor edge for surgical precision, the blades are great for general cutting and light-duty carving in paper, plastic, balsa, basswood, light cardboard, vinyl, rubber and foam. They are compatible with standard-sized hobby knives such as the Zona Hobby Knife (#63970, sold separately). Also may be used in a pin vise.
Zona Soft-Grip Hobby Knife with #11 blade
More Information
Tech Spec

Brand: Zona
Replacement Blades: #11 (see #68033)
Material: Steel
Blade Type: #11 hobby knife blade