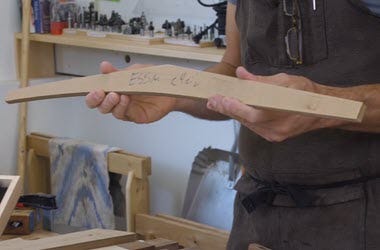 If you want to make components that are the same size and shape repeatedly, pattern routing is an excellent skill to have in your arsenal. With pattern routing you create a template out of plywood that is used to cut identical components. Pattern routing skills can improve your woodworking creatively as well as technically.
How To Make Patterns and Use Them to Route & Shape Wood with Tim Rousseau
In this video, Tim Rousseau, an instructor at the Center for Furniture Craftsmanship, demonstrates how to make patterns and use them to route and shape wood.
Taking your time to create the template pattern is important because your end result will be an exact replica of your template. There is a variety of tooling used in pattern routing and pattern shaping depending on whether you are cutting with or against the grain as well as what wood species is being used.
Tooling can be a very basic straight cutter that has a bearing on it that will follow the cutter. A straight cutter will work to pattern shape but, if you must go against the grain, a shear bit or helix bit will do a remarkable better job but, they are generally a lot more expensive and sometimes harder to come by.
There are a variety of materials that can be used to create your template. Tempered masonite or hardboard minimally 1/4" in thickness is a good material to use, thicker MDF 3/8" or 1/2" is also a good option. Keep in mind with the thicker 3/8" to 1/2" you have more material for the bearings to run on.
If you are going to be attaching the pattern to the workpiece whether it's with double stick tape, pins, or screws, it's nice to have a safety lead-in, Extending your pattern beyond the piece that you're routing allows an opportunity for the bearing to stop against the template and then start the cutting. If you don't have a lead-in there is additional need for caution as you pattern route.
Check out the video above for a step-by-step walk through of how we make patterns and use them to route and shape wood at the Center of Furniture Craftsmanship.
Related Product Categories