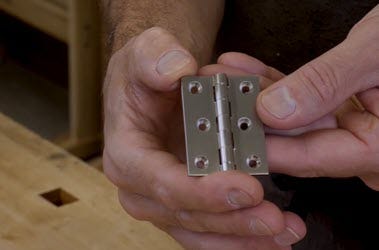 One of the hallmarks of quality furniture is well installed hardware. A butt hinge is a standard hinge that is seen on many kinds of doors. They come in a variety of formats and can be installed in a couple of different ways, the two most common being an overlay door and an inset door. The installation will depend on which type of butt hinge is being used; an extruded flat-backed hinge or a swaged hinge.
How to Install Butt Hinges by Tim Rousseau
In this video, Tim Rousseau, an instructor at the Center for Furniture Craftsmanship, demonstrates how to install a butt hinge. The style and size of butt hinge will determine the layout and installation of the butt hinges. As always, measure and mark the project accurately before beginning the fabrication.
Often the hinges will be inserted in the door first and that will dictate the layout of the hinges on the case. Depending on the hinge and carcase, the two areas the hinges could be installed are on the edge of a door and carcase, or on the interior face of a door and carcase. The top of the hinge frequently corresponds to bottom of the rails of the door.
There are two main ways to cut the mortises for the hinge leaves; by hand, with a chisel and other hand tools, or with a router, cleaning up the edges at the end with hand tools. In both cases it is best to scribe the cut lines with a shar knife. Another great trick is to pre-drill and pre-screw (with practice waxed screws) the hinges. If the carcase is not already glued up, the same process can used on the doors can be used on the case.
Check out the video above for a step-by-step walk through of how we install butt hinges at the Center for Furniture Craftsmanship.
Related Product Categories