Bench Dog No. 102 Apron Plane
This compact block plane is the perfect fit for both your hand and your apron pocket.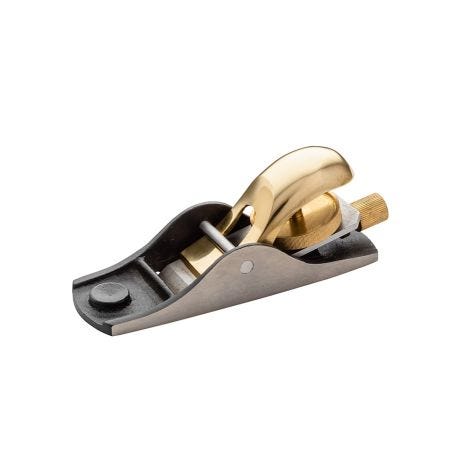 The Bench Dog Apron Plane gets its name from its compact size, which is a perfect fit both for your hand and for your apron pocket. Based on the Stanley No. 102, it's perfect for quick spot planing tasks, edge chamfering and flush cutting. The smoothly cast brass lever cap tucks neatly into your palm, while the finger recess at the toe lets you provide just enough pressure for a balanced planing stroke. Slight adjustments to the knurled brass adjuster knob let you dial in the perfect shaving.
Apron Plane Details:
Only 5-1/4'' long and just under 1 pound—the perfect size for your apron pocket
Perfect for common tasks like touch-up planing and chamfering edges
Thick hardened carbon steel blade for clean, precise cuts
Includes a sturdy storage case and a plane sock to fend off moisture
Certificate of Inspection verifies accurate tolerances
Honing recommended before use
(1) Bench Dog No. 102 Apron Plane
(1) Black storage case
(1) Certificate of Inspection
(1) Owner's manual
More Information
Manufacturer Part Number
250084
Weight
1.350000
Tech Spec

Brand: Bench Dog
Plane Model: No. 102 Apron Plane
Plane Weight: 0.97 pounds
Sole Flatness: 0.0015-0.002'' tolerance
Sole Length: 5.26''
Sole Width: 1.65''
Blade Width: 1.22''
Blade Thickness: 0.118''
Blade Bevel Angle: 25°
Blade Bevel Up/Down: Up
Blade Hardness: 55-60 HRC
Frog/Blade Seat Angle: 12°
Body Material: Cast iron
Blade Material: Hardened carbon steel
Lever Cap Material: Brass