Bench Dog Rabbeting Block Plane
Full-width iron extends to the edges of both cheeks for smooth, precise rabbets and finishing cuts on raised panels.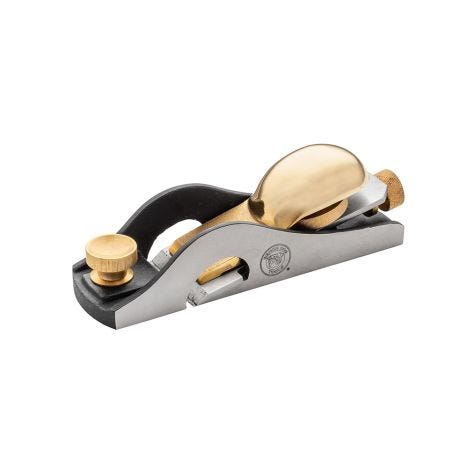 With open sides on both cheeks of the plane, the Bench Dog Rabbeting Block Plane reaches into corners to take thin, precise shavings, leaving a perfect 90° angle and a surface like no other. Because it's open on both sides, it can be used to plane in either direction, depending on the direction of the grain. Not only that, it also performs like a champ for tasks that a typical block plane would be used for, such as planing end grain and cleaning up small bits of tear-out caused by reversing grain in the middle of a board.
Bench Dog® Rabbeting Block Plane Details:
Ideal for cutting small rabbets or trimming tenons to fit
Also can be used as a standard block plane
Features open sides and a blade that extends the full width of the plane
Lets you plane right up to the shoulders of tenons or rabbets
(1) Bench Dog Rabbeting Block Plane
(1) Plane sock
(1) Black storage box
(1) Certificate of inspection
(1) Owner's manual
More Information
Manufacturer Part Number
250600-N
Weight
2.500000
Tech Spec

Brand: Bench Dog
Plane Model: No. 507 Rabbeting Block Plane
Plane Weight: 1.6 pounds
Sole Flatness: 0.0015-0.002'' tolerance
Sole Length: 6.3''
Sole Width: 1.72''
Blade Width: 1.72''
Blade Thickness: 0.118''
Blade Bevel Angle: 25°
Blade Bevel Up/Down: Up
Blade Hardness: 55-60 HRC
Frog/Blade Seat Angle: 12°
Body Material: Cast iron
Blade Material: Hardened carbon steel
Lever Cap Material: Brass