Freud® 91-100 13 Piece Super Router Bit Set - 1/2" Shank
Offers a wide variety of router bits, including "V" groove, flush trim, chamfer and dovetail bits.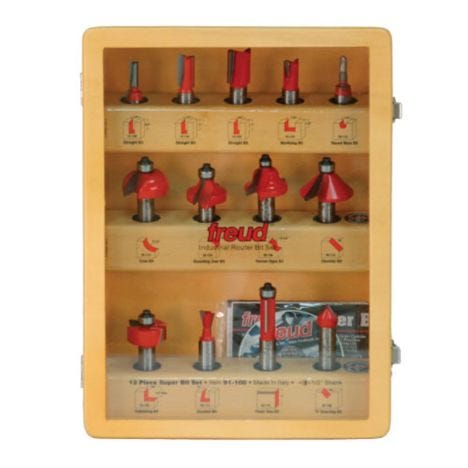 This set is a veritable variety pack of the most-used bits for woodworkers, including three sizes of straight bits, a round-over bit, a chamfer bit, a rabbeting bit, a cove bit and a Roman ogee bit. All bits have sturdy 1/2" shanks for minimal vibration, and the set comes in Freud's unique shadow box case, which can hang on the wall or mount on the bench to keep your bits safe and within easy reach. Bits cut composite materials, plywoods, hardwoods and softwoods.
Bits included in the set – overall diameter x cutter height:
Double Flute Straight Bit (12-100) – 1/4" x 3/4"
Double Flute Straight Bit (12-116) – 1/2" x 1"
Double Flute Straight Bit (12-152) – 3/4" x 1"
Mortising Bit (16-110) – 1/2" x 1/2"
Round Nose Bit (18-114) – 1/4" x 3/8"
V-Groove Bit (20-108) – 3/4" x 1/2"
Dovetail Bit (22-112) – 1/2" x 1/2" (14°)
Cove Bit (30-114) – 1-1/2" x 5/8" (with 1/2" dia. guide bearing)
Rabbeting Bit (32-102) – 1-1/4" x 1/2" (with 1/2" dia. guide bearing)
Round-Over Bit (34-124) – 1-1/4" x 5/8" (with 1/2" dia. guide bearing)
Roman Ogee Bit (38-106) – 1-3/8" x 23/32" (with 3/8" dia. guide bearing)
Chamfer Bit (40-114) – 1-3/4" x 5/8" (with 1/2" dia. guide bearing)
Bearing Flush-Trim Bit (42-110) – 1/2" x 1" (with 1/2" dia. guide bearing)
(1) Double Flute Straight Bit (12-100)
(1) Double Flute Straight Bit (12-116)
(1) Double Flute Straight Bit (12-152)
(1) Mortising Bit (16-110)
(1) Round Nose Bit (18-114)
(1) "V" Grooving Bit (20-108)
(1) Dovetail Bit (22-112)
(1) Cove Bit (30-114)
(1) Rabbeting Bit (32-102)
(1) Rounding Over Bit (34-124)
(1) Roman Ogee Bit (38-106)
(1) Chamfer Bit (40-114)
(1) Bearing Flush Trim Bit (42-110)
(1) Wooden Storage Case
More Information

| | |
| --- | --- |
| Brand | Freud |
| Manufacturer Part Number | 91-100 |
| Weight | 5.900000 |
| Tech Spec | |