Freud #70-103 Engraving V-Groove Solid Carbide CNC Router Bit, 3/16'' Dia. x 1/2'' H x 7.5° Taper x 1/4'' Shank
Use to create crisp, clean engravings in wood or composite materials.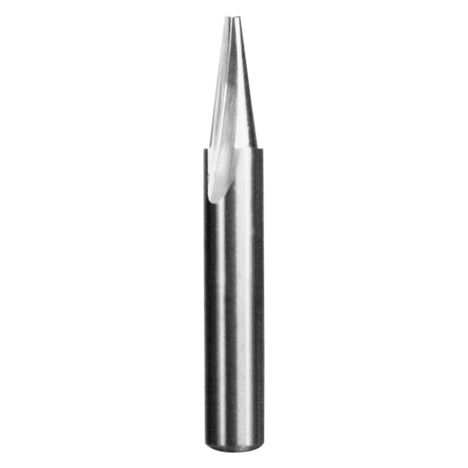 Use this tapered V-groove bit to create detailed engravings in both wood and composite materials. The bit tapers from 3/16'' to approximately 1/16'' at the tip to yield a fine line that is ideal for both graphics and text. It features two flutes and a modest cutting length for minimal vibration. Solid carbide construction provides excellent strength and long-lasting cutting edges.
(1) Freud #70-103 Engraving V-Groove Solid Carbide CNC Router Bit, 3/16'' Dia. x 1/2'' H x 7.5° Taper x 1/4'' Shank
More Information
Brand
Freud
Manufacturer Part Number
70-103
Weight
0.130000
Tech Spec

Cutting Diameter: 3/16''
Cutting Height: 1/2''
Angle: 7.5°
Shank Diameter: 1/4''
Material: Solid Carbide