For a wedding present, I am making a cutting board. This brings to mind the question of which is the best glue for this project? The finish will be a salad bowl finish. - Douglas J. Heckler
Tim Inman: I think for a cutting board, just about any good woodworking glue would be fine. There's really not much stress or unusual movement to consider. Open time or glue-up time is easily controlled. So, your "favorite" glue would be fine. That said, I would probably use a yellow glue rated for water resistance if it were my project.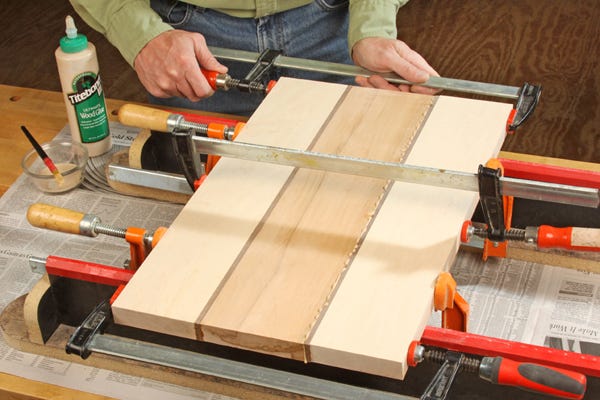 Chris Marshall: I'm saying this jokingly, but if hide glue is your favorite, Douglas, that definitely would be a bad choice...it dissolves in water. At our house, cutting boards get scrubbed in the sink after use, and sometimes they're immersed, not just wiped with a damp rag. So, I'd use a waterproof glue such as Titebond III. (If you're going to the effort to make a beautiful cutting board, why not choose the most water-resistant glue you can?) On blonde woods like maple, Titebond III's brownish color might leave slightly darker glue lines than a yellow formulation, but everyone knows a cutting board is glued together with lots of pieces of wood, so seeing the seams is a non-issue for me. Epoxy would be another alternative, too, but it's probably overkill for your project and much more expensive than ordinary wood glues. Good luck with your cutting board! It's a thoughtful gift and a practical necessity.