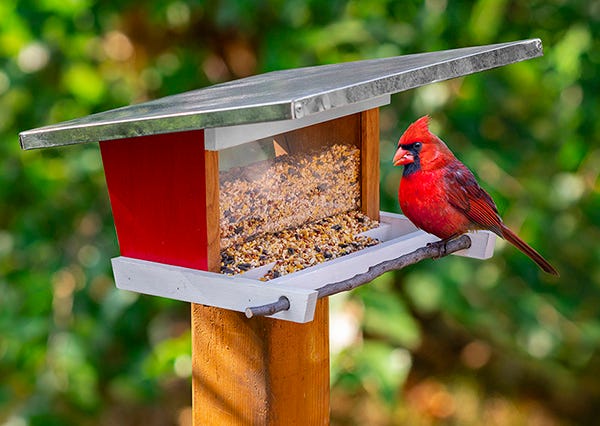 Learn how to make a bird feeder. This free DIY modern-style bird feeder features an easy-to-open roof that makes it easy to fill or clean the bird seed bin. We used white oak, a naturally weather resistant wood, to make this bird feeder. You could substitute another weather resistant wood if you prefer. This free bird feeder project plan includes illustrations, instructions and step-by-step photos.
Making a bird feeder is a great way to attract birds to your yard. A bird feeder is beneficial to the birds and it also provides bird watching enjoyment for you. There are countless styles of bird feeders. This plan is a modern style bird feeder that is designed to hold a classic mix of bird seed to attract a variety of birds. This DIY woodworking plan requires a few common woodworking tools, white oak boards, 1/8" acrylic sheets and a piece of galvanized flashing.
Download this Free Bird Feeder Plan

This bird feeder features a galvanized metal roof that can handle the harshest weather conditions. We also incorporated a natural branch perch to create an interesting mix of materials and textures.