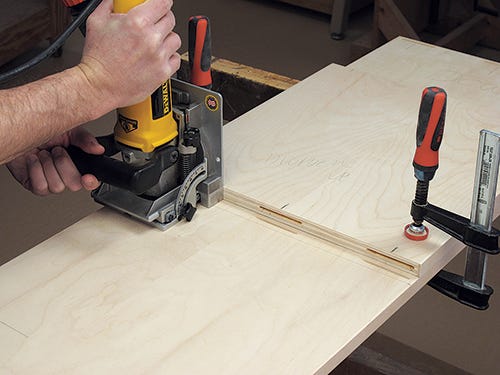 Every day more and more woodworkers are discovering the benefits of using a biscuit joiner in their furniture projects.
The popularity of biscuit joiners seems to grow on a daily basis. It's no surprise, since biscuits are an easy, fast and strong joinery technique. Thinking of adding a biscuit joiner to your shop? There's quite a price swing in the field. You can spend from under $100 to $800. Whether it's price or features, each machine has something to offer. If you're ready to "take the plunge," so to speak, and buy a biscuit joiner, here's some helpful buying advice.
Why Use a Biscuit Joiner?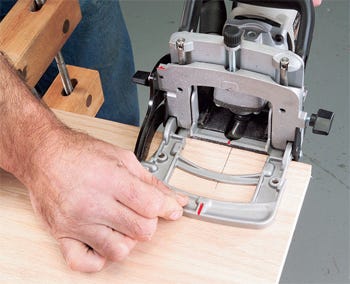 If you've used dowels to reinforce a joint, raise your hand. If, after struggling to assemble the parts you doweled together you swore you'd never use dowels again, raise your hand. Hmm, same hands go up. Dowels are plenty strong, but they're fussy to get aligned properly. Biscuits, on the other hand, are much easier to install. They can also be used in many of the same places as dowels. Think of a biscuit as a simple way to add a spline to a joint. Even if you miss your mark when cutting the biscuit slot, the parts will still go together because biscuits are very forgiving when it comes to side-to-side alignment. They also provide dead-on registration of part surfaces. That aspect is where biscuit joiners really shine. The tool's fence registers both joint surfaces accurately every time, and the biscuit strengthens the joint — just like a dowel would.
Applications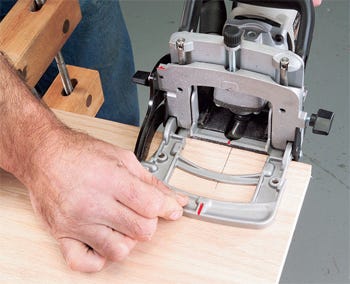 One of my primary uses for a biscuit joiner is fastening solid wood edging to plywood. As the veneer on plywood gets thinner, getting perfect alignment between the solid wood and the plywood becomes more critical. If the solid ends up below the veneer, you've really got problems. If the solid ends up higher than the veneer, you've got lots of sanding to do. A biscuit joiner can virtually guarantee perfect alignment.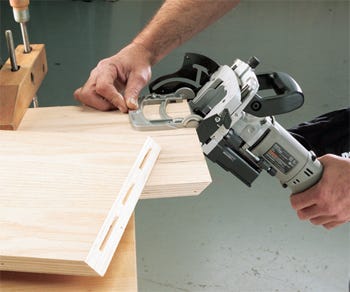 Miter joints are another ideal place for biscuits. By themselves, there isn't any mechanical connection between the two halves of the joint. There also isn't much surface area for glue. And, in solid wood, you're gluing end grain to end grain, which doesn't provide the best bond. Using a biscuit joiner on mitered parts is a great way to solve all three problems. The biscuits add strength to the joint and prevent the two halves from slipping past each other as you apply clamp pressure.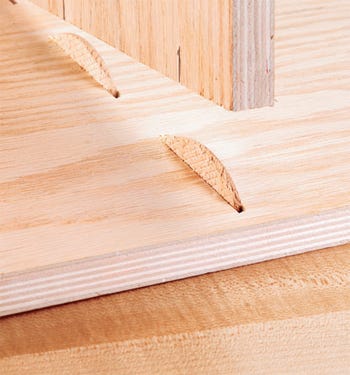 I've got a toolbox I use when teaching away from my own school that's full of nooks, crannies and cubbies. When I built it 15 years ago, I butt joined all the pieces and used biscuits to hold them together. Today, with lots of miles on the toolbox, every joint is still rock-solid, thanks to the 75 biscuits that hold the box together. Butt joints, where you can't or don't want to cut dadoes, are a great application for biscuits. Keep in mind, though, that a biscuit joint isn't quite as strong as a dado or rabbet joint.
What's Cooking with Biscuits?
Most of us are familiar with the usual suspects in the biscuit world: #0, #10 and #20 biscuits. But biscuits have come a long way, baby. In today's biscuit slots, you can: install a hinge, use knockdown fasteners, use a biscuit that acts like a clamp, reinforce a miter and assemble composite materials.
Shopping for a Joiner
You can't beat a test drive when it comes to buying tools. I recommend you handle as many biscuit joiners as you can before deciding which one is best for you.
Handle Styles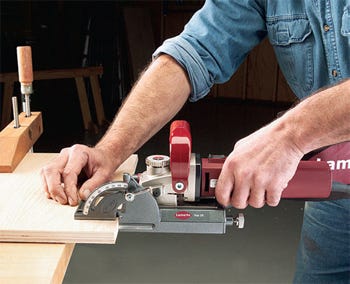 You can choose between a barrel grip, where you're actually grabbing the body of the machine, and the D-handle style.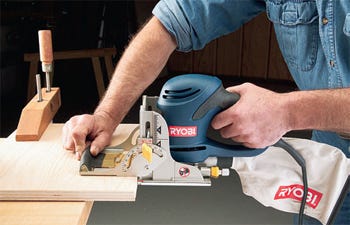 You'll want to buy a machine that fits comfortably in your hand, so it's best to grab ahold of a few tools to see what you like best. I prefer the barrel grip style.
Fence Features
Look for a fence that can be set at both 45 and 135 degrees; this allows you to register the machine on either the inside face or outside face of a mitered joint, which maximizes your options when assembling the pieces.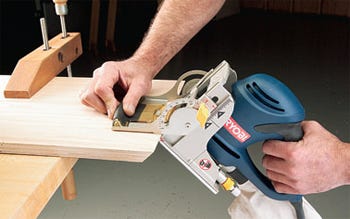 It's best if the fence pivots, making it adjustable to any angle you want. Additionally, the fence should track up and down very easily while remaining parallel to the blade.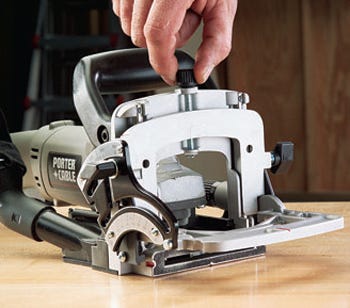 Look for a rack-and-pinion mechanism for adjusting the fence, a large angle scale and comfortable adjustment and lock knobs.
Smaller Blades for Tiny Joints
The 4"-diameter blade that's standard on most biscuit joiners is great for the typical #0, #10 and #20 biscuits. But if you want to use your biscuit joiner for smaller work, such as narrow face frames and picture frames, you need to use a smaller blade and smaller biscuits. You can't just put the small blade on any biscuit joiner. The plunge mechanism on the machine has to be able to work with the smaller blade. If you want the flexibility of using smaller biscuits, make sure your joiner can be retrofitted as needed for this purpose.
A biscuit joiner will add speed, accuracy and strength to your jointbuilding jobs. If you're like most woodworkers I've talked with over the years, once you own one, you'll wonder how you ever got along without it.