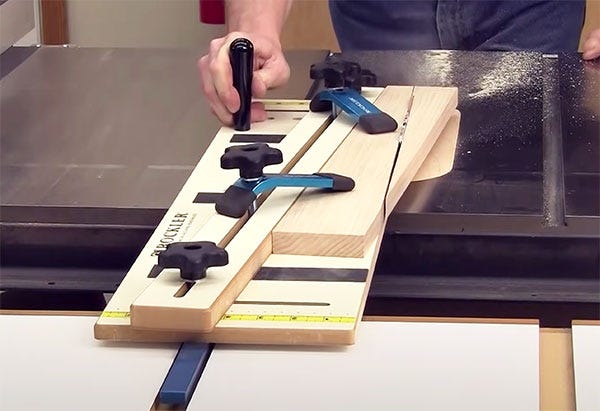 The Rockler Taper/Straight Line Jig makes it easy to cut straight-line edges or tapered cuts. Often you'll need to rip tapers when making legs that get more slender from top to bottom, like the shaker end table, or the angled back slats on an Adirondack chair. This jig also makes it safe and easy to rip a straight edge that is parallel to the opposite edge.
Cutting Tapers and Straight Edges on the Table Saw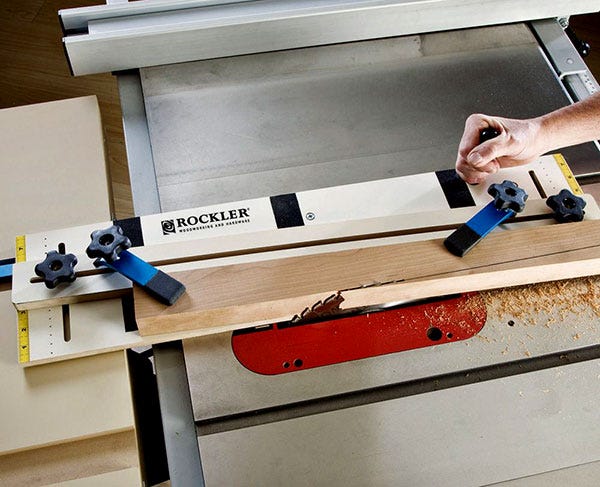 This Rockler Taper / Straight Line Jig is safer than many old hinge style jigs. This bar underneath rides in the saw's miter slot so the jig doesn't rely on the rip fence at all. It always tracks parallel to the blade through the cut, and the workpiece rests on the jigs base instead of directly on the sawed able, to help immobilize it.
An adjustable fence supports the wood from behind, and two metal hold down clamps lock it in place securely. Setting up this jig can make a taper cut a simple. Start by marking the face of your workpiece with the angle you want to cut, and then wrap those layout lines around to the edge and end. Then set the workpiece on the jig base, and adjust it so its layout marks align with the edge of the jig closest to the blade. Now, carefully slide the jigs adjustable fence over and against it and tighten down the fences to star knobs.
Make sure the backend of the workpiece is flush against the fences adjustable metal stop. When the hold-down clamps are set and tight, start the saw and push the jig through the cut.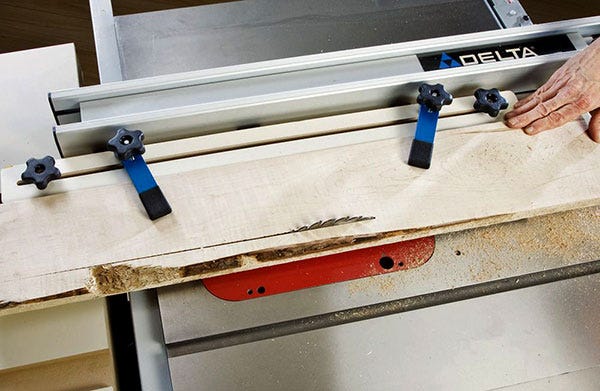 If you need to cut a straight edge that is parallel with the opposite edge of the board, remove the miter bar under the jig, clamp the board to the jig base and use the table saw fence to guide the jig through the cut.
For smaller workpieces, Rockler's Small Parts Taper Jig lets you cut precise tapers on small parts, lending lightness to blocky legs on chairs, sofas and occasional tables. It's also great for whipping out a handful of shims or opposing wedges for workholding applications. Its compact form factor is easy to store, easy to carry and easy to operate, especially on smaller machinery. The miter bar can be located in three spots to fit a wide range of saws, and features nylon set screws to remove the slop. Our comfortable Easy-to-Grip handle makes for comfortable, smooth-sliding operation, while two specially-designed compact hold-down clamps ensure your work won't slip, and allow cutting of narrow parts.