You've had your lathe for a while now. You've turned some small projects — ice cream scoops, bottle openers, a pen for every member of your extended family. You still enjoy those projects — they make unique gifts and you get to go to the shop rather than the shopping mall — but you're ready for another challenge.
How about bowls and turned boxes? They make great, one-of-a-kind gifts; they offer broad creative possibilities; and they provide great opportunities to develop your turning skills. Plus, you'll get the ego boost of having people say, "You made that? Wow!"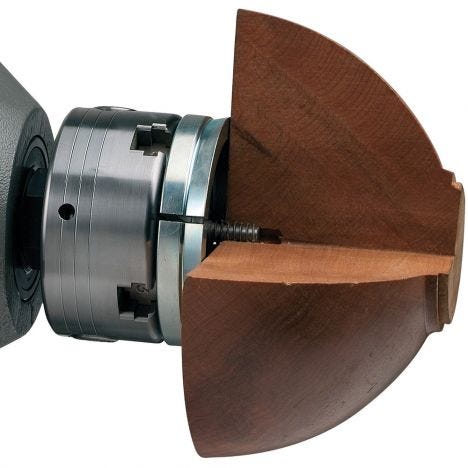 While it's possible to turn a bowl with just a faceplate on your lathe and maybe a shop-made jam chuck, it's a lot easier if you equip your lathe with a four-jaw chuck. As the name suggests, this type of chuck has four jaws, and these jaws can be adjusted in and out to hold a workpiece, either by contracting around a turned tenon or expanding into a recess you turn in the workpiece. Most chucks also include a large screw insert for mounting blanks for shaping and turning the tenon or recess.
Four-jaw chucks are an investment, so you want to choose wisely. Here are a few considerations to keep in mind when deciding on the best chuck for you.
Lathe Size Manufacturers typically offer different models of four-jaw chucks designed for specific lathe size ranges. A chuck that provides the needed heft, capacity and strength for large projects on a 2hp lathe with 20" swing over bed might simply be too massive for a 1/2hp mini lathe with 10" swing. Look for a chuck that's sized for your lathe.
Insert vs. Direct-thread Chucks: Some chucks thread directly onto the headstock drive spindle, while others require the use of a separate insert/adapter. Direct-thread chucks can be a little less expensive, but they only fit lathes with matching drive spindle specifications. If you switch to a lathe with different drive spindle specifications, the chuck won't work. With insert chucks, inserts/adapters are available for a variety of drive spindle specifications, so you can just get a different insert if you change lathes.
Drive Spindle Specs: As mentioned above, different lathes are likely to have different drive spindle specifications. These specifications are expressed with one number indicating the diameter of the spindle and another specifying the number of threads per inch (TPI) on the spindle — for example, 1"-8TPI. Whether you opt for an insert or direct-thread chuck, it's important that you know the drive spindle specifications for your lathe. You don't want to buy a direct-thread chuck for a 1"-8TPI spindle only to find out that your lathe has a 1-1/4"-8TPI spindle.
Jaws: A variety of interchangeable jaw sets are available for different types and sizes of turning projects. Four-jaw chucks come with a standard set of jaws (usually around 2") to get you started, but if you need to hold much smaller or larger workpieces, you'll want to look at other jaw sets. As you explore turning with the chuck, you'll discover which jaw sets would be most beneficial to your application.