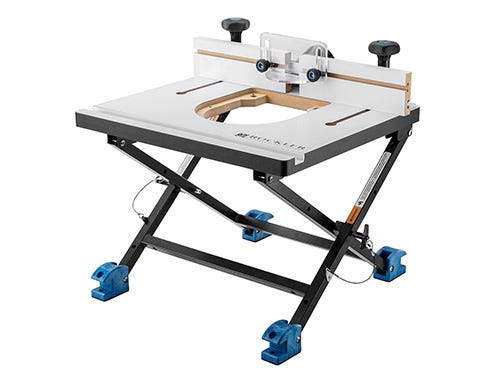 There are three basic reasons for buying a "bench top" router table (a router table intended to stand on a workbench or other support rather than taking up a permanent space on the floor): cost, compactness, and portability.
A bench top router table is great for a small shop, where the limited space often has to serve a number of purposes in turns. These compact tools easily fit under a workbench or on a shelf, and can be pulled out ready for action when the need arises.
Then there's cost. While different makes and models vary greatly in price, the cost of a bench top router table is invariably lower than a floor standing set-up with comparable features. That's the important point to consider. The term "bench top" just means smaller and more portable; it doesn't say anything (necessarily) about quality.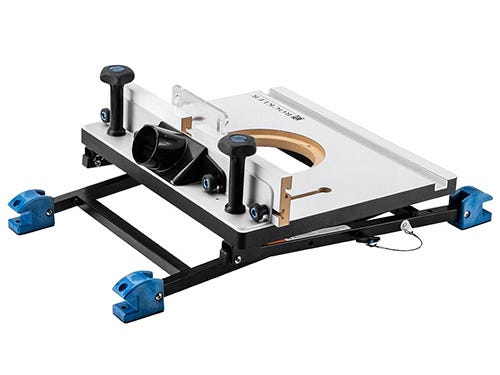 When you're shopping for a bench top router table, it only makes sense to tally up the qualities you'd look for in a "full sized" router table and apply them to the miniaturized class. What you'll find is that you really don't have to sacrifice any of the most important router table features in exchange for the cost and space savings of a bench top table. You'll also find an appreciable range in what you can get away with paying for a pint-sized router table that leaves nothing to be desired.
As is the case with floor standing models, there are certain basic components that a bench top router table just has to have if it is going to perform accurately and conveniently, and hold up over time: most notably, a solid and sufficiently sized top, a sturdy base and a reliable, easy-to-use fence.  Beyond that, it's reasonable to look for a few of the perks available in better full sized tables: A standard 3/8" x 3/4" miter slot is a handy thing to have. A router-to-table interface that makes installing, removing and leveling the router is also something to give serious consideration.
You won't have far to look to find a bench top table that meets or exceeds all of these expectations. Here's an option that we'd label a standout value in this diminutive router table class. The Rockler Benchtop Router Table is, in all important respects, a compact carbon-copy of one of our all-time most popular products: the Rockler router table package. It's also prime example of a case where "portable" is not simply another way of saying "stripped down".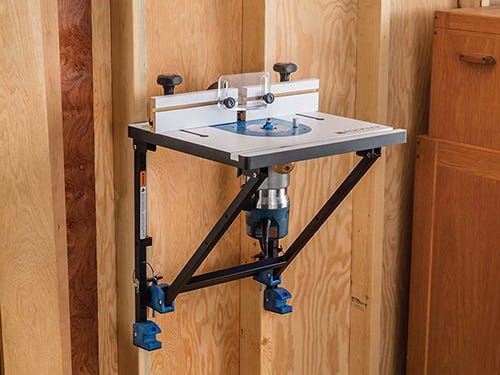 The folding base on our Convertible Benchtop Router Table can be quickly reconfigured for benchtop use, wall-mounted use, or folded up for storage or transport. In addition, the unique router plate (sold separately) lets you quickly remove the router for freehand use, then dock it again for table use—the compact size of the plate makes it light and nimble in freehand applications. Compact and portable, yet full-featured, the table is ideal for small shops and jobsite use. Triangulate the base and mount it to the wall of your shop or to stud walls on the jobsite. Use it on your benchtop or on the tailgate of your truck, then fold it and tuck it under the bench or into the truck cab.
The table features space for adding an easy-in/easy-out router plate set up that can accomadate most common routers and can be drilled for many other routers. Two of our most popular plates are pre-drilled for mid-sized routers or compact routers from Bosch, DeWalt, Hitachi, Makita and Porter-Cable.
The Rockler Convertible Router Table comes standard with all of the perks and parts that made our floor standing table packages such a success. But its defining feature is still portability. Measuring a modest 18-1/2'' wide x 18-3/4" deep x 19" tall, the Rockler bench top table is small enough to fit in the tiniest of workshop storage spaces. And while it's equipped with bones sturdy enough to prevent the all too familiar bench top table shimmy, the Rockler table's weight and size make it a comfortable carry up a flight stairs or out to the back of a truck.