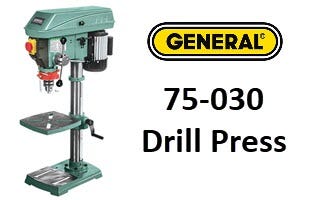 General International's 14" benchtop was a tall, smooth operator in testing. It showed excellent fit and finish in its castings and milling and has a silky feed action. The round table was slightly cupped in the center but locked solidly; so did the support arm to the machine's rack-and-pinion column. It's quite quiet, considering the size of the motor.
General 75-030 Drill Press Technical Specs
HP/Amps: 1/2; 8
Speed Range (RPM): 280-3000
Table Size: 11-3⁄8" Dia.
Spindle Travel: 3-1⁄8"; Chuck: 5/8"
Weight: 105 lbs.

One feature of the General International 75-030 is an onboard clip for storing the chuck key, a feature the author thinks more tools should have. General provides plentiful features: a 40-watt task light socket in the head, a clip to stow the chuck key (every press should have this!), 5/8" chuck and twin lasers to help zero in on centerpoints.
Due to Canadian safety regulations, there's a plastic guard around the chuck that flips up for bit changes. You also need to lift a hinged kill button to turn on the power. The spring-loaded chuck guard on the 75-030, provides added safety for users and is not difficult to work around.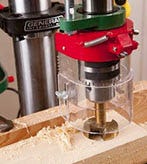 While I like the pair of tool-free collars that set drilling depth, they allowed the press to creep about 1/16" deeper over 100 holes during testing. The 75-030 drill press is a sturdy and apt performer overall.