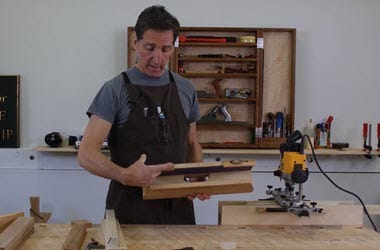 Router boxes are one of the most accurate methods of cutting mortises. A router box is a simple plywood parallel box that allows a plunge router to rest on the surface and cut mortises into the wood that is held into it. There are a few variations; in size, added end stops and even hinges for angled mortises.
How to Make Mortises with a Router Box with Tim Rousseau
In this video, Tim Rousseau, an instructor at the Center for Furniture Craftsmanship, demonstrates various methods of cutting through mortises, conditional to the application and tools at hand. Besides its brawn and visual simplicity as a joint, through mortises can also add decorative elements.
In this video, Tim Rousseau, an instructor at the Center for Furniture Craftsmanship, demonstrates how to use a plywood router box to cut a mortise in various components. A router box is a box held together with a stable piece of wood with spacers and wedges that allow you to space up to the component to be mortised. It is also recommended to line the inside walls of the box with sandpaper to help grip the components.
As with any mortising operation the layout is important. Use the spacers to get the component as close to the top of the box without being above the box walls. Have the component up against the sandpapered box walls with the mortise location being centered in the box and use the wedges (also lined with sandpaper) to "wedge" the piece tightly. Clamp the box in a bench vise.
When mortising using a plunge router it is best to route using a spiral upcut bit for pulling the wood chips out of the mortise hole while routing. Use two guide fences on either side of the router box to center the router bit over the mortise and micro adjust. A good tip is to wax the router box wall tops to route smoothly. It is an option to add stop blocks to the router box.
To prevent burning and have the smoothest mortise, run the router at a lower speed and take shallow 1/8" passes, end to end, until hitting the set depth stop. Now that one mortise is done, everything is set to route the rest of the mortises.
Check out the video above for a step by step walk through of how we make mortises with a router box at the Center for Furniture Craftsmanship.
Related Product Categories