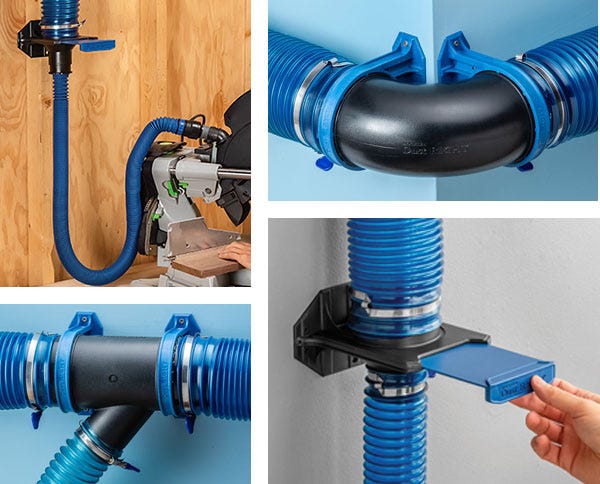 Mounting dust fittings to a wall can be a hassle, involving trips to the hardware store, a hodgepodge of parts, and shaky results that slide around when you need to attach or detach a hose. Dust Right Ready-Mount Fittings and Blast Gates make it easier than ever to design and install an efficient layout of dust collection hose lines. Made from durable ABS plastic, these durable fittings securely mount to the wall the interlocking Ready-Mount Brackets (#65053, sold separately),. The Ready-Mount Blast Gates feature heavy-duty mounting flanges and redesigned gate mechanism, making them the best blast gates we have every offered.
Video: Dust Right Ready-Mount Fittings and Blast Gates
NEW READY-MOUNT BLAST GATES

The Dust Right Ready-Mount Blast Gates provide sturdy connections and optimized airflow for your dust collection system. Made from a durable polymer with reinforcements in all the right spots, they'll hold up easily to all the pushing and pulling a blast gate endures over its lifetime. They are available in three sizes; 4"-dia. to 4"-dia. (left), 2-1/2"-dia. to 2-1/2"-dia. (center) and 4"-dia. to 2-1/2"-dia. (right).

Ready-Mount Blast Gates feature a slot along the back that allows dust to clear when the the gate is closed. This prevents dust from getting packed and blocking the gate from fully closing.
READY-MOUNT FITTINGS AND CONNECTORS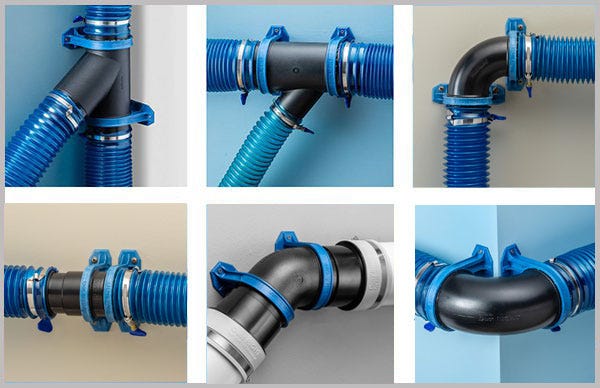 Ready-Mount Dust Hose Fittings are available in a variety of configurations in 2-1/2"- and 4"-dia. sizes. You can select 90-degree elbows, 45-degree bends, straight couplers, reducers, and Y-connectors to precisely direct your dust line from each tool to the dust collector.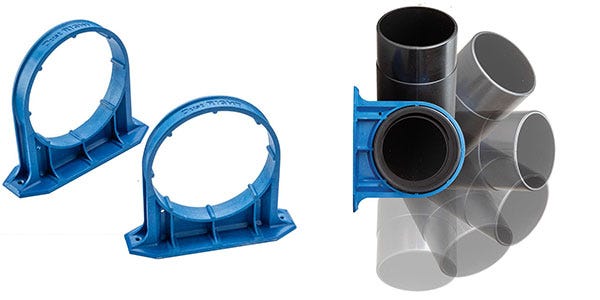 The Dust Right Ready-Mount Fittings and Connectors mount to the wall with Mounting Brackets. The Ready-Mount 4"-dia. Mounting Brackets or the Ready-Mount 2-1/2"-dia. Mounting Brackets are available to support both sizes of Ready-Mount Fittings. These brackets feature teeth that interlock with the notches on the fittings, allowing you to adjust fitting position and redirect it in 15 degree increments. Once positioned, the teeth lock the fitting in place.
Learn More About Setting Up Dust Collection Systems:
There are a lot of considerations that go into setting up an effective dust collection system in your woodworking shop. Check out this article that covers everything you need to know. about Setting Up a Dust Collection System.