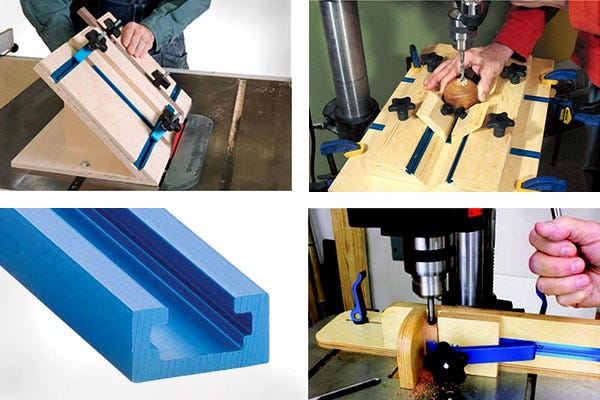 Rockler has designed several woodworking jigs that make it safe and easy to complete common woodworking actions, such as making miter cuts, making cross cuts, or milling joinery. But sometimes you need to make a special jig for a specific woodworking task. Rockler Universal T-track and accessories can help make these jigs adjustable and more versatile. The Universal T-track features a unique "stacked" T-slot that accepts both 5/16" T-bolts and 1/4" T-bolts, as well as 1/4" Hex-bolts. The T-tracks are available in 2 ft, 3 ft, or 4 ft lengths. The free jig plans featured in this post are examples of the many ways you can incorporate t-track in your jigs. You may find these jigs useful for your projects or they may be the inspiration for your unique jig design.
Video: Learn More About the Rockler T-Track System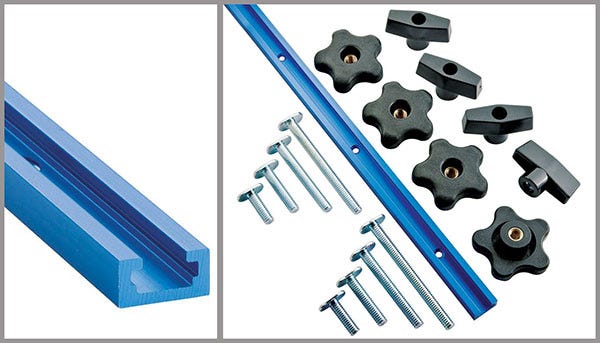 You can purchase individual pieces of t-track in 2', 3', and 4' lengths. Rockler has also designed a wide selection of special T-Track Clamps and Stops and different sizes and types of t-bolts and knobs for your jigs and other projects. You can also purchase the a T-Track starter kit (right) that includes a 4' length of t-track and several t-bolts and star knobs.
Free T-Track Woodworking Jig Plans
These woodworking jigs feature Universal T-track and accessories. The T-Track makes it easy to adjust the jig and securely hold different size work pieces.

Round things roll (of course) and adding to that challenge is the complication that cylinders and spheres are hard to clamp securely because, by definition, they don't have many (or any) flat surfaces. Thankfully, there's a solution to the round object drilling problem: it's called a V-block. A v-block keeps a cylinder from rolling while you are cutting or drilling it. And what about if you want to drill a round object? The answer is pretty simple: you just cut two v-blocks and position them at 90 degrees to one another. The place where they intersect will keep a ball-shaped object from moving. This jig features multiple v-blocks and each part can be repositioned along t-tracks.

Cutting miters and bevels on small parts can be dangerous and difficult. The work pieces must be held securely and you must keep your fingers a safe distance from the saw blade. This simple jig solves both problems. It holds your work pieces and keeps your fingers safe. This jig also holds the work piece at a consistent and accurate bevel angle in relation to the blade.

Properly adjusted, nothing beats a drill press for boring perfectly vertical holes. With your stock flat on the table, held by hand or with a clamp when needed, as long as your table's square to the chuck, you'll get spot-on vertical holes. However, when drilling holes into the ends of a workpiece, turning the work on-end and keeping it rigidly vertical while drilling creates a delicate balancing act. A vertical drilling jig like this one makes the process easy again.
This jig works with the drill's table (properly adjusted so it's square, of course) to hold your workpiece vertically with a dual stop system — one stop permanently affixed to the jig's 90° fence serves as the vertical register for the workpiece, while a sliding stop adjusts along a Universal T-track to hold the workpiece upright.


This wall-mounted router table provides a solid router table station and it folds up to save space. It features a full-size 24" x 32" laminated top that rests on a pair of removable support arms during use. When not needed, it tips up and tucks into a cabinet that's just 12" deep. The fence mounts on Universal T-tracks . You don't even have to remove the fence to close the table up; just slide it back, lock it in place, and it tips right into a cabinet cubby. It also features a hole is drilled through the cabinet wall for access to a shop vac hose and an on/off safety switch with a plug for the router cord.
This drill press table project plan was designed and published by Woodworker's Journal Magazine. It was built with cherry plywood, curly maple and walnut scraps, but you could also make it out of less expensive plywood or scraps.