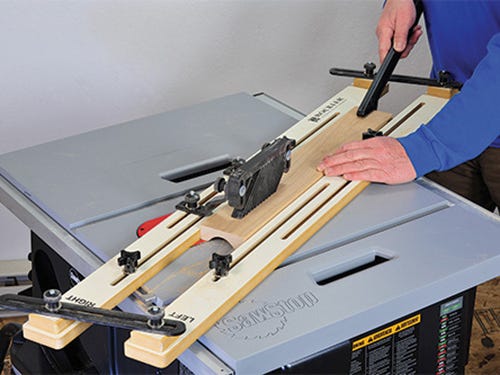 Coves are one of the most common decorative shapes in woodworking and this tool makes cutting them easier.
The table saw method of cove cutting has a couple of considerable advantages over the router and cove router bit: A router is limited to one cove radius per bit. A table saw and a single blade, on the other hand, give you almost unlimited options for cutting coves of different proportions. A table saw will also cut coves in large sizes that are well out of range for even the largest routers and router bits. To cut a cove on a table saw, you simply take advantage of the saw blade's circular shape and run the stock over the blade at an angle. By changing the height of the blade and the angle at which the stock meets the blade, you can set up for virtually any depth-to-width proportion of cove.
Still, most woodworkers don't take advantage of the versatility offered by shaping wood on a table saw. Most will consider it only when they need a decorative element that's in visual balance with a certain project, and absolutely can't find a "stock" molding or router bit that does the trick, or when they have no choice but to match a few feet of molding that's no longer in production. We think that has a lot to do with problems in the process - difficult set up, lack of confidence in the procedure, poor results caused by stock movement during the cut, etc. And that, we're sure, has a lot to do with not having the right equipment.
The key element in cutting coves safely and effectively on a table saw is having a good system for guiding the stock over the blade - a good jig, in other words. And in terms of cost, time invested and results, we think the Rockler Cove Cutting Table Saw Jig is pretty tough to beat. It's miles ahead of the typical shop-made jig, and makes cutting coves on a table saw easy and reliable enough to qualify as a "routine" procedure, instead of a last resort. To show you what we mean, here are a few requirements that a good coving jig has to meet, and how the Rockler jig handles them
The second is that before gluing up any subassembly, all the surfaces that cannot be planed after the glue-up are cleaned and polished beforehand.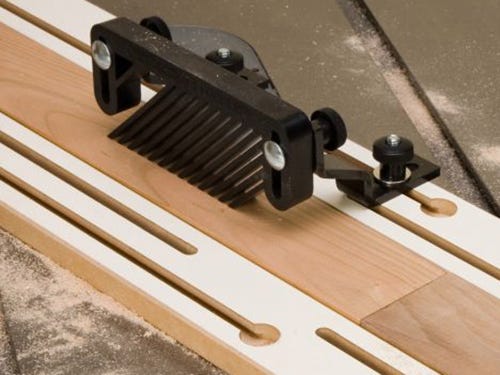 Above all, a cove cutting jig shouldn't take hours to set up. Cutting coves on a table saw is already more involved than using a router and router bit: Unfortunately, when you're coving on a table saw, you can't just point a raw piece of lumber in the general direction of the blade and make a perfect cove in one pass. Instead, to cut the cove safely and to end up with a smooth final cut, you have to hog out the majority of the material from inside the cove first, and then make a couple of final passes to smooth out the profile. That, by itself, isn't a major hassle. But if you add in lots of tinkering with the jig - clamping and un-clamping the jig's fences to make minor adjustments, for example, or rigging up a makeshift featherboard arrangement to hold the work flat on the surface of the saw - the process starts to seem a little cumbersome.