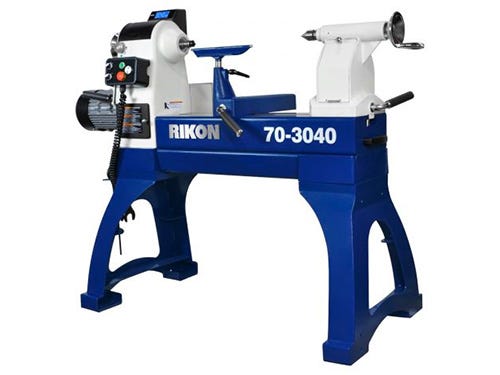 Motorized expanding bed — an industry first — doubles distance between centers and increases usable swing.
Length matters with wood lathes — whether it's their swing over bed or the distance between centers. Unless a lathe has a movable headstock, there's not much you can do to increase swing, and lengthening the bed to turn longer spindles requires buying a bolt-on bed extension.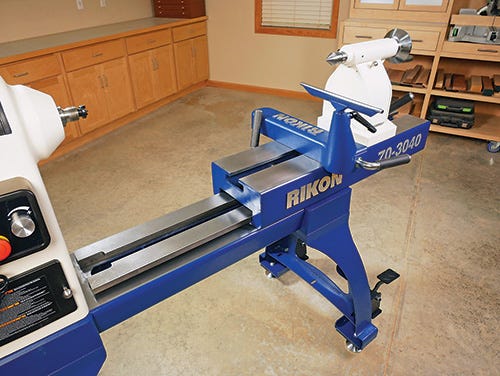 The bed's upper casting slides along grooves in the lathe's primary bed with no discernible side-to-side or up-and-down play. When fully open (as shown here), it doubles the distance between centers from 20" to 40". A stout lever in back locks the bed's length setting for turning.
RIKON has an industry-first solution to increase both of these capacities on its new 70-3040 Heavy Duty VSR Lathe: allow the bed to slide open. That's why this lathe stacks two slabs of solid steel bed together. When they're closed, the distance between centers is 20" and the swing over bed is a tad over 23". But turn a dial on the machine's controller, and a separate 24-volt DC motor under the bed extends the two sections apart, doubling the distance between centers to 40" and adding another 8" of swing for turning large bowls or platters. Net result: you get more turning capacity "on demand" without changing the machine's overall footprint.
Heavy-duty Chops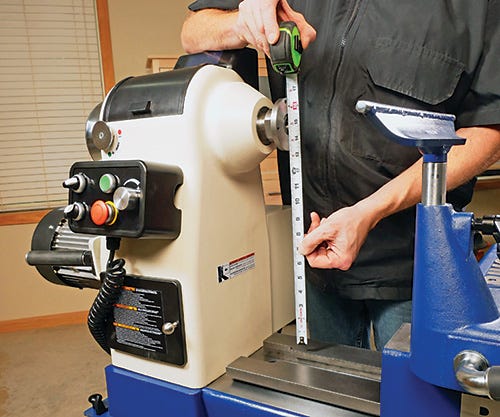 With the bed extended, swing over the lower bed section increases from 23-7/32" to 31-1/4".
A powerful 3hp three-phase TEFC motor drives this lathe's 1-1/4" x 8 tpi spindle, which spins in the headstock casting on four bearings to better distribute axial loads. An onboard inverter enables the motor to be powered by single-phase 220-volt power, and it also allows for variable speed — from a knuckle-dragging 20 rpm to 3,850. Shifting a multi-V drive belt between three spindle pulleys subdivides the speed range, and a large, bright LED readout reports the current speed.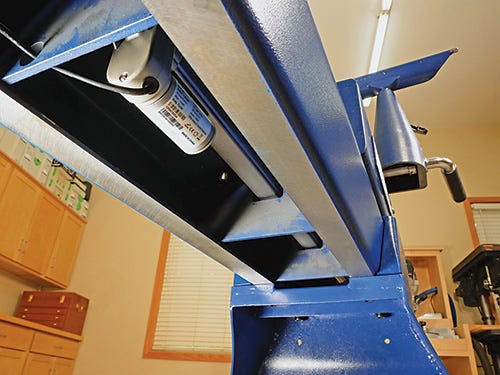 Below deck, a 24-volt DC motor operates the sliding function by way of a continuous helical thread lead screw and a ball lineal actuator. The threaded drive mechanism is sealed inside a tubular casing with an IP54 rating, protecting it from dust and liquids.
The machine's control box, which houses the On/Off, forward/reverse, speed dial and bed expanding switches is tethered to the lathe with a coiled power cord. You can move and stick it to any metal surface on the lathe for greater turning convenience, thanks to its magnetic back.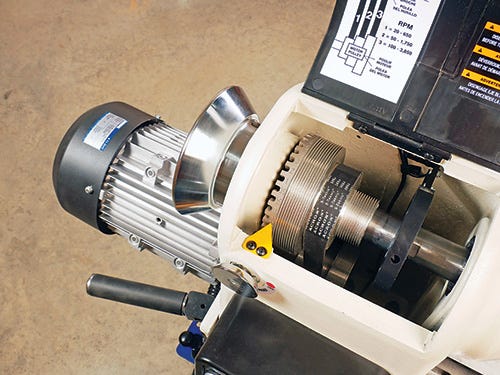 Three speed ranges — 20 to 650, 50 to 1,750 and 100 to 3,850 rpm — are easy to change without tools by loosening a locking lever and moving the lathe's multi-V drive belt inside the headstock from one pulley to another.
RIKON provides a massive cast-iron banjo and 12" toolrest with 1" post to handle heavy-duty cuts. They lock solidly. The leading edge of the tool-rest is a hardened steel rod, which will better resist dings that can impede smooth, fluid tool use.
The 70-3040's cast-iron tailstock has a handy storage compartment hidden behind a magnetized door to hold the included drive and live centers. The tailstock's quill extends 41-1⁄16" for hole-boring operations, and both it and the headstock spindle have #2 Morse tapers.
Foot-activated pedals on the 2-1/2"-diameter casters of RIKON's optional mobility kit raise the lathe about 1" to help roll it around.
Thick, welded steel legs help to dampen vibration during use. You can add swiveling feet to adapt the lathe's footing for uneven shop floors. Or consider an optional caster set to help move this 546 lb machine around. Several other accessories, such as a gap bed insert, are also available.
Shop Score Card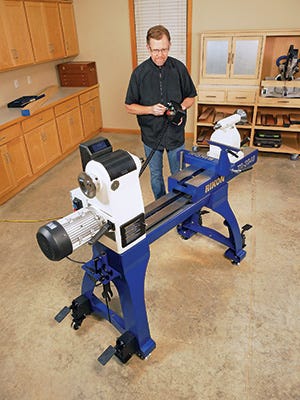 Swing Over Beds: 23-7/32", 31-1/4"

Distance Between Centers: 20" to 40"

Motor:

3hp (14.8 amp), 220-volt

Variable Speed Range: 20 - 3,850 rpm

Working Height (Floor to Spindle): 44"

Net Weight: 546 lbs

Spindle: 1-1/4" x 8 tpi

Tool-rest Length / Post Dia.: 12" / 1"

Indexing Positions: 36

Quill Travel / Spindle, Tailstock Tapers: 4-11/16" / MT2s