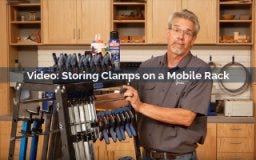 One of the best ways to organize your woodworking shop is to store your clamps on a rack that is easy to access. The Rockler Pack Rack Clamp Rack is more than just a basic clamp rack, this is a full-service mobile work station and storage solution! Load both sides to the hilt with clamps, and use the interior space to store everything from air compressors to dust collectors. Four included hooks make it simple to install a shop-made storage shelf, while four high-quality polyurethane casters let you roll the entire rig anywhere in the shop.
Storing Clamps on a Mobile Rack - Video Transcript
Speaker: Now, it may seem obvious to some of you, but one of the very best ways to stay organized in your shop is to store related products together. That's where this pack rack tool storage system from Rockler really shines. This cart features adjustable mounting rods so that you can space them to hold the clamps that you have. The accessory top cap and shelves are handy places for storing small clamps and other products. I like to keep my glues on this top shelf and most of my smaller clamps and band clamps in a tub on the bottom shelf, making it my mobile assembly station. The pack rack also makes my life in this shop much easier saving me from having to lug heavy clamps around, I just roll it to where I'm working. Then, when I'm done, I just put it away.