Table saws take up such a big footprint in the realm of woodworking, both figuratively and physically, so approaching the challenge of explaining their fundamental worth in a shop is more than a bit daunting.
Table saws are in nearly every woodworking shop. In a Woodworker's Journal survey, more than 96 percent of respondents said they own a table saw. (A full quarter of those woodworkers surveyed own more than one table saw.) In my last shop I had three of them, but I have to admit that was excessive.
Why are table saws so prevalent? Because they are exceptionally versatile and good at what they do. Table saws are truly the core of woodworking power tools.
What Do They Do?
In a woodworking shop, they cut wood. Table saws have a circular saw blade that is mounted under the "table," the flat work surface of the tool. The blade raises up through the table with their teeth rotating forward.
In my dad's cabinet shop, we had a table saw that was just that: a big flat table (48" x 60") made of plywood. It did not have a rip fence, so we clamped a straightedge in place to act as a fence. It had Babbitt bearings, almost no height adjustment for its 12"-diameter blade and was at least 60 years old when I was using it in the 1980s. I ripped miles of lumber on that primitive machine, and thankfully I still have all 10 fingers.
Table Saw Safety Basics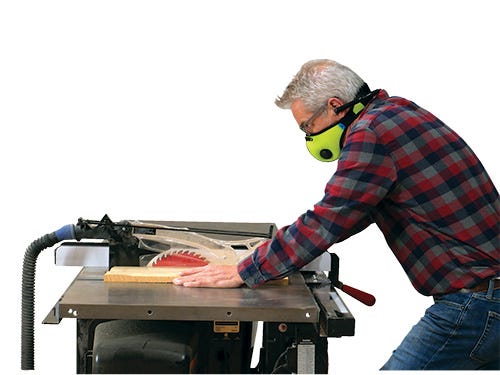 Keep Your Body Safe: Protect your lungs with a mask, your eyes with safety glasses or goggles and your ears with hearing protection.
Use Common Sense: Make every effort to keep your fingers clear of the spinning saw blade. If a cut you are attempting feels unsafe, stop doing it. Approach the problem with safety in mind. Keep your guards and safety equipment in place.
Use Sharp, Proper Saw Blades: While almost all cuts can be made with a combination blade, using an inappropriate blade can make kickback or saw overloads more likely.
Much More to Learn
There have been scores of books written about table saws, and this article is just a fundamental overview. Clearly there is more to say. Proper use and maintenance, actual how-to instructions for safe rip cuts, crosscuts, dado cuts and more are missing. Still, these basics are important for anyone getting started with a table saw, and they're a good reminder for those of us who have been using them for years.