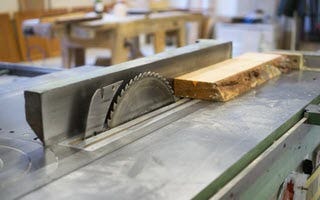 If you're like most woodworkers, a table saw is the most often used tool in your shop. Getting adequate dust collection to it should be a primary concern. But not all table saws are set up to make dust collection easy. Open based contractor saws present a particular dust collection challenge. Two of our woodworking experts offer a few tips on the subject.
One of our customers asks:
"What is the best method of collecting dust from a table saw? I have a Craftsman. I could build a box below or incorporate a port on the blade guard. Which is more effective?
Answers from the Experts
Michael Dresdner: "Most of the dust from the table saw goes below the blade, not above it, so a box would be my choice.
Ellis Walentine: Neither is totally effective. Dust coming off the top of the blade can be extremely annoying and is typically finer in size, but by far the greater amount of dust is carried downward by the blade. For this reason, I'd build an enclosure with a dust port under the saw chassis first. Remember that if your saw is a contractor's type (with the motor cantilevered out the back), it can be tricky to close off the opening, so your dust collection may be less than wonderful, but it will be better than none at all. You can improve the performance of the dust collection if necessary by providing more CFM (cubic feet per minute) on that branch duct.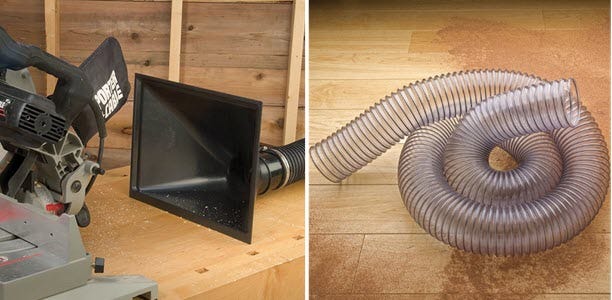 Fortunately, you don't have to build all of the components of a table saw dust collection system yourself. Rockler offers a universal table saw hood that will significantly speed up the process. The table saw hood can be quickly fitted to most open based table saws and attached to standard 4" Flexible Dust Collection Hose in a couple of seconds with a Keyed Hose Clamp.
Or, if you own a portable table saw with a 2-1/4" ID (inside diameter) dust port, use a Hose Adapter to connect it to 4" dust collection hose. As you read above, the dust that churns out of the top of your saw (in the general direction of your face) is a little tougher to catch. And while there's less of it than the amount that goes downwards into the body of the saw, it can still fill your shop with clouds of fine dust in a matter of seconds - all the more reason to supplement your dust collection system with an air filtration system, and to outfit yourself with effective personal respiratory protection.
---
Shop Dust Collection