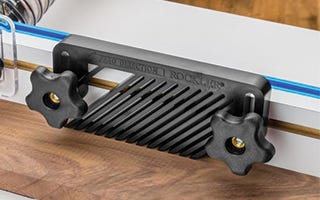 If you've recently purchased a router table, a table saw or any other stationary power tool, you may have noticed that your new prized possession didn't arrive with every related (and often, very desirable) piece of equipment imaginable already in the box. Don't feel cheated. By convention, power tools come with the equipment necessary to perform their basic functions safely, under typical operating conditions - and that's about it. Ultimately, most power tool owners discover that a few items in the "power tool accessories" department that rarely come standard, are difficult to do without. Fortunately, the power tool add-ons that most woodworkers call "indispensable" don't cost an arm and a leg. Some of the best are very affordable to buy ready-made, or can be made without too much trouble in the shop. The humble "feather board" is a prime example.
If you haven't had the opportunity to use one, a featherboard is the most common member of a family of mechanical hold-down devices designed to help hold stock up against a tool's surface or fence while it's cut of otherwise machined. In its simplest form, a featherboard is a shop-made device cut from a piece of straight grained, 3" - 6" wide scrap. To make one, you simply crosscut the board at approximately 30 degrees and then make a series of stopped cuts in the direction of the grain roughly 1/8" apart. The end result should be a series of flexible "fingers" running across angled end of the board.
What Does A Featherboard Do?
A featherboard actually serves two purposes. As mentioned, it helps hold the stock up tight against the surface of tool or fence while you run it through. In most cases, a featherboard is able to do a better job than a human operator of keeping the stock on track. A featherboard has just one job – to apply and even, consistent pressure. It doesn't have to worry about such things as changing hand positions to keep the stock moving, or keeping up the appropriate feed rate. Along with that, a featherboard can be positioned closer to the action than human finger should ever venture, applying pressure where it is most effective and least likely to be overcome by vibration. Together, these advantages make a featherboard or other mechanical hold-down device just about indispensable for delicate edge forming, grooving and rabbeting operations.
Using a featherboard also offers safety benefits. Because of the angled orientation of its fingers, when a featherboard is set up to apply a gentle pressure, it will allow stock to move easily in the direction of the cut while all but preventing movement in reverse. And while it should be noted that they are not a replacement for the riving knife and anti-kickback pawls that now come standard with most table saws, featherboards do provide significant kickback insurance.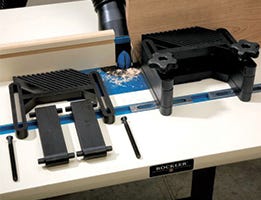 Should you make your own featherboards, or buy them ready-made? Making your own is a viable choice: A shop-made featherboard can work just as well and a store-bought model, and of course they're virtually cost-free. But like most things, there are a couple of tradeoffs: Featherboards aren't particularly hard to make, but they don't make themselves. Depending on your how much enjoyment you get out of making jigs, and how much shop-time you have on hand, you may decide that the chance to get on with your work outweighs the modest cost of a store-bought model. More to the point, shop-made featherboards are typically much less user-friendly than ready-made varieties. If you're planning to simply clamp a basic shop-made featherboard in place, remember that you have to do that while you hold it in a position that exerts a slight pressure on a representative piece of the stock. That, in itself, can involve a bit of surprisingly awkward one-handed clamping.
Securing The Featherboard
Getting the featherboard secured in the right place can be especially difficult when the goal is to clamp it to the surface of the tool; most table saw beds and router table tops just weren't designed to make the process easy and convenient. Rockler adjustable table featherboards, on the other hand, side-step the clamping problem. Their miter slot hold-down bars expand to clamp the featherboard firmly into a standard 3/4'' x 3/8'' miter slot and secure its position simultaneously, with the turn of a couple of knobs.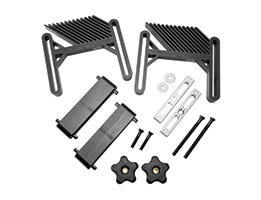 Rockler featherboards also make more involved set-ups much easier. One featherboard isn't always enough; occasionally, you need "stacked" featherboards. When you're running stock vertically along the fence - as in the case of cutting raised panels with a vertical panel-raising bit - you need the extra support of a second featherboard up near the top of the fence. The second featherboard ensures that the entire face of the stock will stay in contact with the fence, and not just the bottom edge. A perfect companion to our popular Deluxe Router Router Fence, the Rockler Double Featherboard Kit lets you position two perfectly aligned featherboards one on top of the other with the same quick and easy turn of a knob. And if you already own the basic kit, the Rockler Retrofit Double Featherboard Kit lets you do it for considerably less.