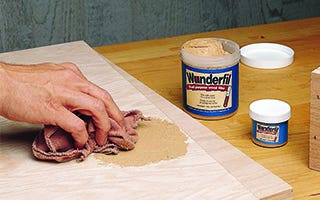 Wood filler, grain filler, wood putty – what's it all mean? Judging by the raft of questions we field on the subject, filling wood is a source of general confusion among woodworkers.  Our experts off er a little clarification on the topic.
Wood filling can be divided into two basic tasks:
1. Filling voids – such as nail holes, chips and dents.
2. Filling the pores of "open grained" woods, like oak and mahogany.
Fillers designed strictly for filling voids are thicker, and for one reason or another may not work well for filling grain pores – they may contain particles too large to work into miniscule grain openings, or may not be easily thinned down to a viscosity suitable for the task. Fillers designed strictly for filling grain are thinner, with a consistency often compared to pancake batter. They simply lack the "body" to fill larger voids. Some fillers can be used for both - they are thick enough to span a void, and can be thinned to fill grain pores in an entire wood surface.
Wood Filler Customer Favorites
For filling voids, many woodworkers swear by fillers composed of a nitrocellulose lacquer binder and wood flour (very fine wood particles). Famowood is an example – and a product that truly lives up to its name. It dries quickly, shrinks minimally, comes in a variety common wood species, and earns customer reviews like this:
"There is no substitute when it comes to the best of the best. That's what Famo is all about. You simply will not find a better wood filler. Its ability to basically become invisible is what sets it apart from everything on the market. Nail holes vanish, slight imperfections in a mitered joint seam together"
Wunderfil, another favorite, is a dual purpose filler. It comes in putty form, suitable for filling voids, and can be thinned with water to a consistency that works well for filling grain. It cleans up easily with water and is available in a number of colors, which can be mixed together or custom tinted to produce a perfect color match.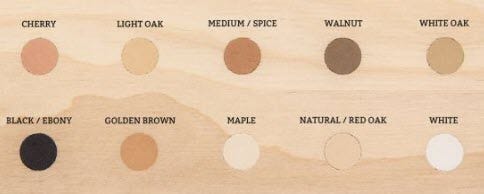 Wunderfil is also heartily endorsed in our customer reviews:
"The absolute best filler I have used. I have only used this for damage repair so far but will be starting a project soon and using it as a grain filler. Have confidence it will work well. Nearly undetectable after being stained."
"I recently build a desk for my wife using 5/4 oak for the top. I've never used a woodgrain filler before and couldn't find any on the store shelves. Got it from Rockler, followed the directions and was very happy with the results. Showed it at my woodworkers club, Woodworkers of El Paso and was highly praised for it...thanks Rockler."
"Unquestionably the easiest filler to apply and sand I have ever used. "

Products designed strictly for filling grain come in two varieties: oil/varnish based and water based. Bartley Paste Wood Filler is a classic oil based grain filler, and a top choice for filling grain under oil based wood finishes. It comes in three shades and when used as correctly, will produce the perfectly flat surface necessary for a "glass-smooth" finished product. Crystalac is a water-borne grain filler, cleans up easily, works under any type of film finish, and has a unique and often desirable property: it dries water-clear.
Filling grain requires something of a "knack", and seems to be the source of the most wood-filling confusion. But it's not beyond the reach of anyone with average woodworking skills. As with any advanced finishing technique, a little knowledge and a practice run or two can go a long way. If you've never filled grain, advice from a pro – such as that found in a wood finishing book or video - can really flatten out the learning curve.