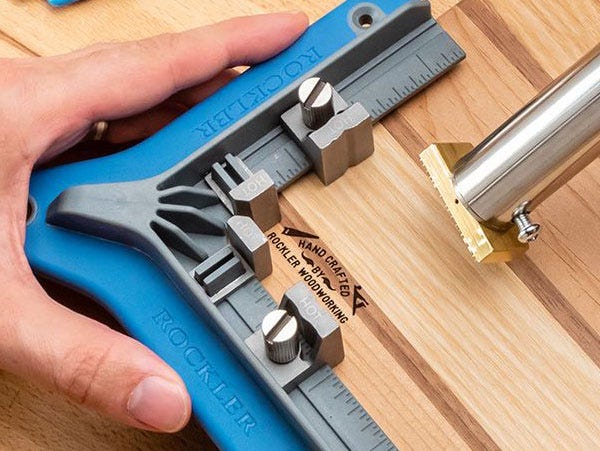 Personalize your woodworking projects with a personalized branding iron. Choose from an electric or torch heated iron. Each version includes a custom head with text of your choice.
Burning your brand message, logo, or signature into a piece of furniture is permanent, so make it perfect with the new Rockler Branding Iron Alignment Jig that ensures a straight, square brand, every time.
Video: Precisely Position Your Woodworking Branding Iron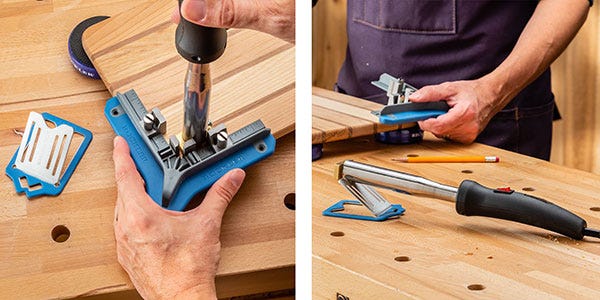 The Rockler Branding Iron Alignment Jig Precisely positions your branding iron for straight, square brands, every time. The rubber grip limits heat transfer, allowing comfortable handling. The aluminum stops are easily repositioned to accommodate various branding iron sizes. An aluminum stand is included for resting your branding iron when it is still hot and not in use.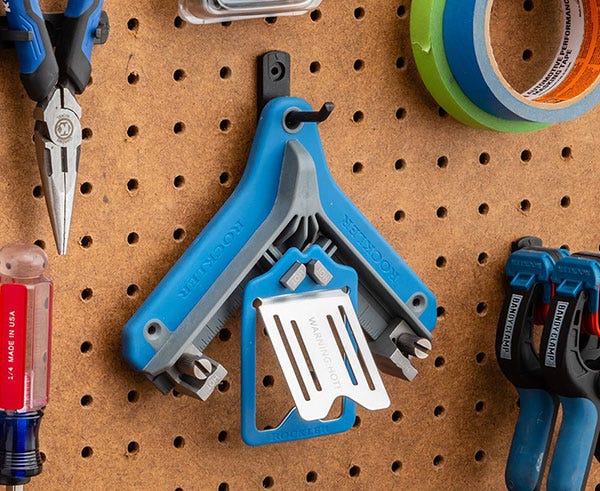 The Branding Iron Alignment Jig and Tool Rest connect together for compact storage or hanging on a pegboard or other hook.
Tips for Using Woodworking Branding Irons
- Wait for branding iron to heat up completely before branding.
- Lightly dampen branding location on project with water.
- Try to locate brand over same species of wood. Different wood species can burn at different rates.
- Hold brand in place for 3-5 seconds. Harder wood species often require longer burn times.
- Make test brands on scraps of same wood species to determine optimal length of burn time.
- Use an alignment jig to position branding iron on project.

Rockler Branding Irons

Rockler Custom Branding Irons are available as handheld electric or handheld torch heated versions. The electric version is best for branding multiple projects at a time. Each version includes a custom head with text of your choice. Brand messages are available in sixteen styles. After you make your purchase, you will receive a voucher with further instructions for completing your order. At that time, you will be able to make your final design choice and enter your custom text.





You can also choose a handheld electric or torch heated branding iron that features a unique signature or custom logo.





If you need to do a lot of branding on products, then a Drill Press Mounted Branding Iron is the way to go. These branding irons feature higher wattage and interchangeable heads for the production environment.