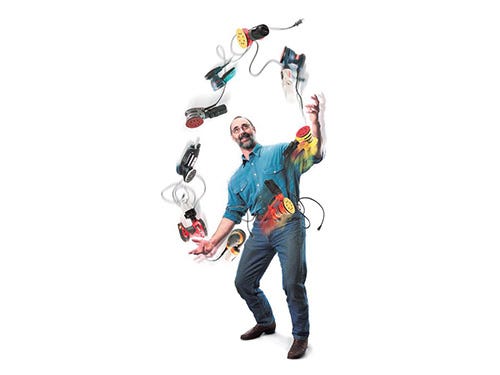 Rather than juggling with all the different power sanding options on the market now, our author has laid out the options he looks for when buying a new sander.
There are some topics woodworkers can't seem to agree on: pins first or tails first, shaper or router table, left- or right-tilt ... but one thing no one argues about is that sanding is no fun! Random-orbit sanders can reduce the misery of getting your projects silky-smooth. This tool test covers the 5"-diameter class — perfect for home woodworking.
Here are some things to look for when shopping for a new sander and why they're helpful for better sanding.
Quick-change Artist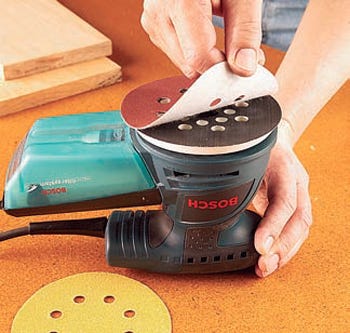 Most sanding jobs require working through a variety of sanding grits. The easiest way to make sandpaper disks is with a hook-and-loop attachment system. With hook-and-loop, changing papers is a simple matter of peeling off one piece and applying the next.
If you can work a zipper, you can use hook-and-loop sandpaper. And, provided you haven't worn out the sandpaper, hook-and-loop enables you to reuse the sheet. All the sanders in this test came with an eight-hole hook-and-loop system.
Variable Speed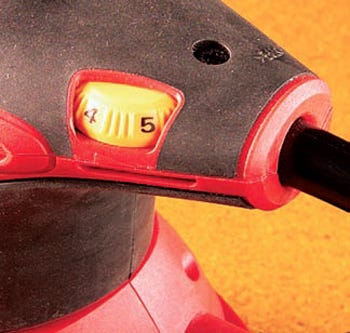 The key to a smooth finish is control, and an important aspect of control is variable speed. I often slow a random-orbit sander down when working on veneered materials to reduce the likelihood of sand-through. I also run at a lower speed when using the sander to smooth a finish. Although it adds a bit more cost to the machine, variable speed is well worth having.
Vacuum Options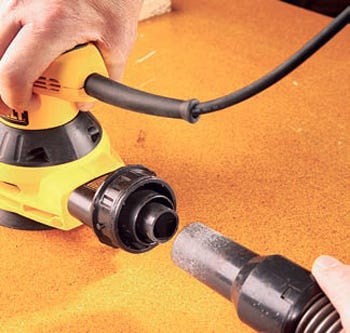 Every sander in the test came with a dust bag or canister. While onboard collection is better than nothing, what I recommend is connecting your sander to a good quality shop vacuum. This requires a connection on the sander that's compatible with standard vac nozzle sizes. It's an option that isn't offered with every machine. Those that do connect to vacuums will definitely help keep your shop air and lungs cleaner.
Getting a Better Grip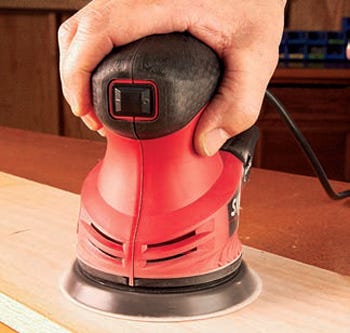 It's difficult for me to measure how a sander will feel in your hand. Many variables, such as hand size and hand strength, come into play. When possible, go to a retailer that sells the machines you're interested in and grab hold of them. Check out how easily (or not) your fingers can wrap around the machine and reach the On/Off switch.
There was very little variation in the width of the handgrip on the machines in this test. However, there was variation in the "neck" size under the handgrip where your fingers wrap. Although a number of the testers who helped me — men and women, right- and left-handed — grabbed hold of these machines, we couldn't collectively come up with an individual machine about which we could all say, "We love this grip."
Aside from the tool's grip size, you may appreciate a sander that comes with a soft overmold on the grip. It'll help reduce vibration and fatigue during those really long sanding sessions.
Love a Long Leash
I love it when manufacturers provide a generous cord on their tools. Some of the sanders here have cords that are 12 or more feet long! My sanders get plugged into a tool-actuated vacuum that lives near my workbench. With a long cord on the machine, I reap the benefit of not needing extension cords, and I'm able to easily get from one end of a big face frame to the other.
Scratching for Answers
When it comes to sanding, the most important issue is how smooth a surface finish the machine can produce. Here's where the rubber meets the road. Sure, you might periodically use a random-orbit sander equipped with 60- or 80-grit paper to hog off a bunch of material, but more commonly you're going to use it for finish sanding.
We performed a surface finish test with these machines by equipping each one with a brand-new piece of sandpaper. All the paper was from the same manufacturer and was, of course, the same grit. We then sanded uniformly sized pieces of red oak for a set period of time. Since you typically see sanding scratches when you apply stain, that's how we evaluated finish quality.
Recommendations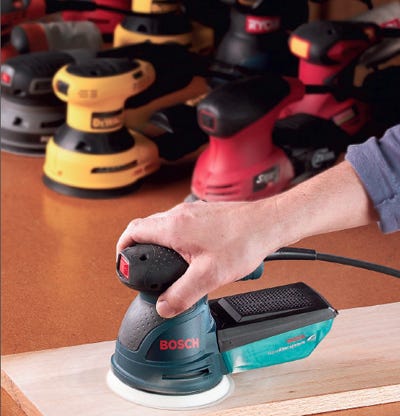 The Festool machines are sure sweet if you've got the checkbook for them. Across the board (oak, pine, whatever), my testers called these the smoothest operating machines in the group. The RO125 is a kind of combination grinder/sander, capable of hogging off lots of wood or polishing a high gloss finish.
Among the other test tools, the Bosch and Porter-Cable were close behind Festool for smooth operation. The neck below the handgrip on the Porter-Cable was larger than on other machines, so small hands may have a hard time gripping this tool.