Leigh B975 Box Joint and Beehive Jig
A simple, affordable jig that makes tight-fitting box joints.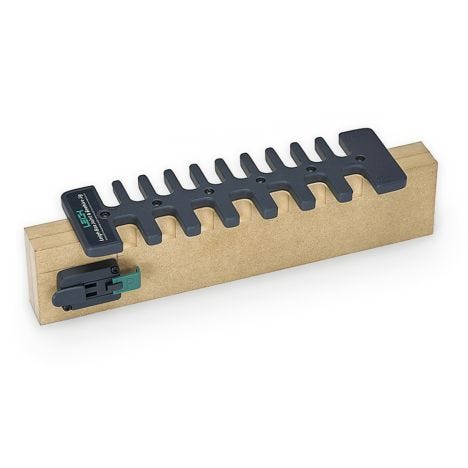 This simple, affordable jig makes light work of 1/2'' and 3/4'' box joints—ideal for making anything from boxes and drawers to beehive ''supers.'' Leigh's elliptical e10 bushing lets you adjust the fit by as little as 0.001'' for tight joints that slide together with a whisper. The flip stops provide the correct offset for the pins and sockets—just flip the stop open to go from routing sockets to routing pins. The comb template is attached to a shop-made beam, which can be made out of 2 pieces of 3/4'' MDF glued together, or a length of 2x4 jointed square.
Features:
Make fast, accurate 1/2'' and 3/4'' finger joints on boards from 1-7/16'' to 17-13/16'' wide
Useful for anything from boxes and drawers to casework for small furniture pieces
May be used with handheld or table-mounted routers (table-mounting requires an insert that accepts a standard 1-3/8'' guide bushing)
Elliptical e10 guide bushing lets you adjust the fit by as little as 0.001''
Includes glass-reinforced nylon template, e10 guide bushing, stops, 1/2'' straight bit, cams (not pictured) for routing wider boards, manual, and instructional DVD
(1) Glass-reinforced nylon template
(1) e10 elliptical guide bushing
(1) Pin wrench for e10 adjustment
(1) 1/2'' straight router bit 160
(1) 3/4'' Adjustable side stop
(1) 1/2'' Adjustable side stop
(1) 3/4'' Step-over cam (for routing wide boards)
(1) 1/2'' Step-over cam (for routing wide boards)
(10) 1'' Phillips head screws for mounting
(1) User guide
(1) Instructional video
More Information
Manufacturer Part Number
B975
Weight
1.800000
Tech Spec

Maximum Stock Thickness: 13/16''
Stock Width Range: 1-7/16'' to 17-13/16'' wide (in bench mode)