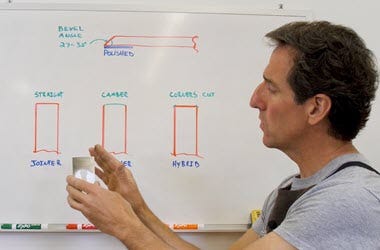 A hand plane is a versatile and inexpensive woodworking tool. It has a sharp blade that flattens, shapes and smooths wood boards. Hand planes are used by woodworkers, carpenters, cabinet makers and DIYers. There are many types of hand plane variations, each serving their own function and purpose. Like any cutting tool, a hand plane performs best when sharp.
How to Sharpen A Handplane with Tim Rousseau
In this video, Tim Rousseau, an instructor at the Center for Furniture Craftsmanship, demonstrates how to sharpen a handplane. Having a sharp handplane is incredibly important when you're trying to create high quality work.
The handplane bevel is the angle on the cutting end of the blade iron. They are classified based on whether the blade is mounted facing up or facing down. The bevel on a bevel-up handplane faces away from the wood whereas the bevel on a bevel down handplane faces the wood.
The grind angle of the tool affects the cutting angle greatly. Soft woods like Pine and non-dense hardwoods like Walnut like to be cut at a lower angle. Dense hardwoods like Oak, Maple, Rosewood and especially figured woods like to be cut at a much steeper angle. By changing the bevel angle, you can change how the tool performs in different woods.
Check out the video above for a step by step walk though of how to sharpen each of these cutting gauge styles as well as what tools you'll need for the job.
Tools & Supplies Needed:
Related Product Categories