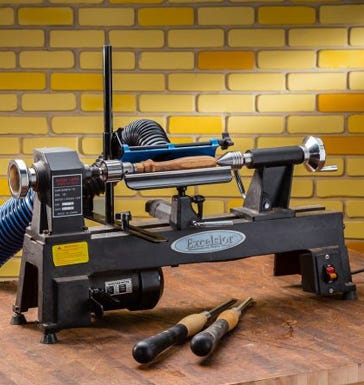 Firing up your new lathe for the first time? This guide will give you some tips and techniques to help you get the most mojo from your machine. You'll learn about safety, maintenance, turning tools and lathe accessories—all topics that will enhance your turning experience, and the results at the end!
1. Keep the Chips Down with the Right Protective Gear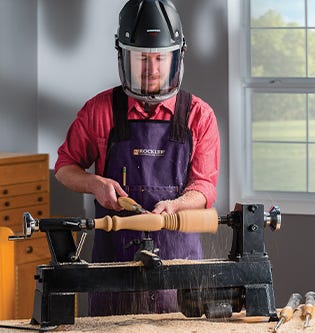 Lathes throw up more chips and shavings than almost any other tool in the shop, so eye protection is a must. At a minimum, you should wear safety goggles or safety glasses with side shields, but a face shield over your goggles is even better, especially when turning bowls and other large items. Though turning generates mostly large shavings, sanding is also common at the lathe, so it's important to wear a mask or respirator to filter out airborne dust. For the ultimate in protection, check out the Trend® Air Circulating Airshield Pro, which combines both a face shield and a motorized respirator that ensures fog-free performance. And don't forget to roll up long sleeves, tie back hair and remove any jewelry before turning on your lathe.
Another important safety point is to choose the correct lathe speed. A rough guideline is that appropriate spindle turning speeds are between 800 and 1800 RPM, and between 150 and 1200 RPM for bowl turnings and other large faceplate turnings. For lathes with a variable speed dial, always start the lathe at the slowest speed and slowly ramp it up until you reach the desired speed. Be sure to check your manual for more specific information on speed settings and the capacity of your particular lathe.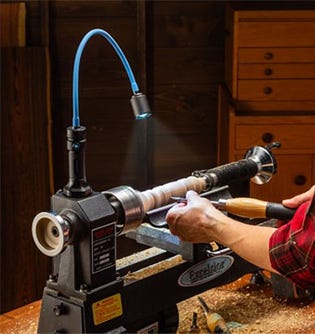 Lathe Tip

Good lighting is not only important for safety, it also makes turning much more enjoyable and helps improve the results of your work. Many of the lathes we sell offer a lighting kit as an option. If that's not available for your lathe, the Rockler Magnetic LED Task Light provides focused light right where you need it, and we also offer a wide selection of 4' LED lights that are perfect for general lighting above your lathe.
2. Simple Maintenance Leads to Long Lathe Life
Modern lathes are surprisingly low-maintenance machines, but here are a few simple things you can do to maintain tip-top performance.
1. Be sure to clean off the dust and chips regularly to keep the ways and moving parts from getting gunked up. Especially if you're turning green wood, which has high moisture content, you'll want to clean up any chips promptly to fend off rust.
3. Over time, the tool rest may develop nicks and scratches that interfere with smooth sliding of your turning tools. To restore the smoothness, use a mill bastard file to smooth any nicks. And see tip #4 for information on upgraded tool rests, which are more resistant to developing nicks.
Lathe Tip

Avoid using compressed air to clean dust off your lathe—this only leads to unnecessary airborne dust. Instead, use your dust collector to vacuum up the chips, or brush it off gently with a good Benchtop Brush.
3. Minimize Extra Work with a Good Center Finder
Something you need to do before mounting any blank in the lathe is to find the precise center. This way, the blank is balanced and only a minimum of material need be removed to round it off. Rockler offers a selection of well-reviewed center finders, including our Caliper Gauge/Center Finder, which, in addition to finding center, also lets you set your lathe calipers to any dimension from 0" to 5", in 1/8" increments.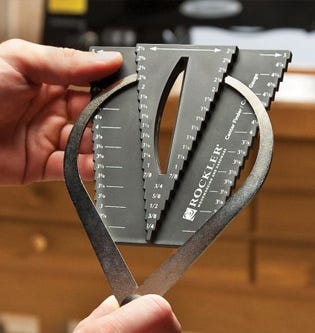 Speaking of lathe calipers, be sure to pick up a set to make turning spindles to specific diameters easy and accurate. Robert Sorby offers a popular range that includes an Inside/Outside Caliper option and two Double-Ended Caliper options.
4. Upgrade Your Tool Rest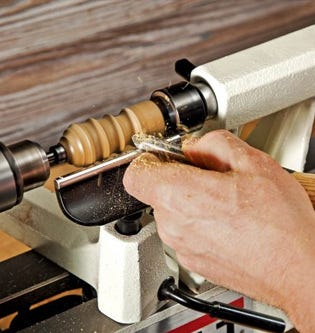 A lot of the smoothness of your cut rides directly on the tool rest. Stock tool rests are often made from cast iron, which can dent easily, causing inconsistencies as you glide across it. We offer upgraded tool rests that help to mitigate this problem. Our Rockler Lathe Tool Rests feature a stainless steel bar on top that is exceptionally smooth, plus a nicely contoured recess for your fingers to slide along. Robert Sorby also offers their Modular Tool Rest system with a range of hardened steel bars that can be interchanged between various posts for use with different lathe sizes.
5. Devise a Dust Strategy
Truth be told, with lathes, a part of your dust collection strategy is always going to involve a broom. However, Rockler offers some great attachments that significantly cut down on sweeping time. Our jumbo Dust Hood attaches to a 4" hose to gobble up the bulk of the shavings and chips coming off the lathe. For smaller turnings, our Dust Right® Lathe Dust Collection System with Chip Deflector encircles small blanks for focused extraction. The Chip Deflector enhances the system by guiding errant chips back into the opening for optimal performance.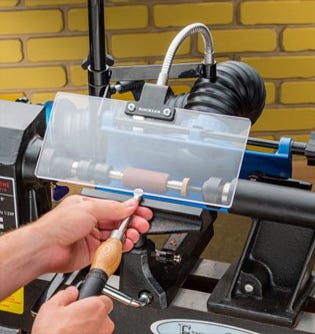 For any dust that escapes the vacuum, your second line of defense (in addition to a mask) is a good Woodturner's Apron. Ours has generous frontal coverage to keep the dust out of your pockets, a closed neck with a soft collar to keep the dust out of your shirt, and a divided breast pocket for your pencils.
Lathe Tip

If you ever have problems with dust sticking to the clear window of the Chip Deflector, simply wipe it with an anti-static dryer sheet. The same trick works for your face shield. Make sure to get the unscented variety to preserve the fresh-cut wood scent in your shop.
6. Invest in the Right Turning Tools
Turning Tools are available in two broad categories: "traditional" turning tools, with resharpenable steel cutting tips that are integral with the shank, and ''carbide insert turning tools,'' which have a separate carbide cutter that is easily replaced or rotated once dull. Carbide turning tools are gaining in popularity due to their convenience—there is no need to invest in expensive sharpening equipment, no down time for sharpening, and the carbide cutting edges last for a long time. Others prefer the traditional tools for their lower per unit cost, the ability to resharpen and the fact that you can customize the cutting profile of your tools.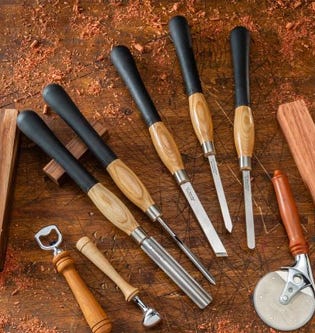 A good strategy for beginning turners is to start with carbide insert tools because they don't require an initial investment in sharpening equipment, and you can always add traditional tools later if needed. Whichever way you go, we have plenty of options. Rockler's Ergonomic Carbide Turning Tools are offered in three sizes, from smallest to largest: Pen Turning Carbide Turning Tools, Mini Carbide Turning Tools and Full-Size Carbide Turning Tools. We also offer full-size traditional turning tools in a 5-piece set. All feature our comfortable ergonomic ash handles encased in a rubber overmold for exceptional grip and control.
Lathe Tip

Just as important as having a good selection of turning tools is having them organized neatly so the right tool is right at hand. Check out the Rockler Carbide Turning Tool Holders for a convenient wall-mounted design, and also our Traditional Turning Tool Holder for a magnetic version that accepts our thicker traditional shanks.
7. Sharp Tools = Sharp Results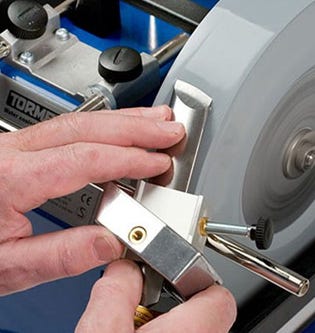 Sharp tools are not only a pleasure to use, they're also a key component of safe woodturning. Dull tools require more pressure, increasing the risk of accidents, and they leave a ragged surface. Sharp tools cut like butter, with very little pressure, leave smooth surfaces, and generate mostly chips and shavings rather than dust as waste. In fact, if you're getting more dust than chips, that's a key sign you need to stop and sharpen, or to rotate your carbide cutter.
If you prefer traditional tools, be sure to invest in good sharpening equipment. The best way to sharpen your tools is with a Slow-Speed Bench Grinder or a water-cooled sharpening system such as those offered by Tormek. These grinders help keep the cutting edge cool to prevent ruining the temper in the steel. The beauty of the Tormek system is the wide variety of jigs available. One of the most versatile Tormek turning jigs is the Gouge Jig. Check out this video to get an idea of how it works. Tormek even offers diamond wheels that are capable of sharpening carbide tools.
8. Keep a Full Range of Sandpaper Handy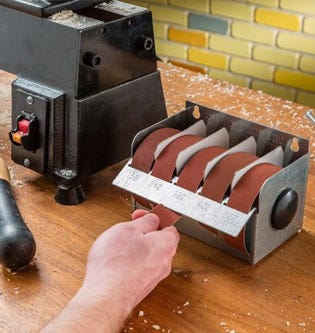 One of the nice things about turning is that sanding on the lathe is almost effortless. Just be sure to remove the tool rest and sand from the bottom, where the piece is rotating away from you. To make things especially convenient, we offer our Woodturner's Multi-Roll Sanding Pack, which lets you quickly progress through the grits all the way to 600. We also offer an accessory Sandpaper Dispenser that makes it easy to cut off the cloth-backed strips, as well as replacement sandpaper rolls, in case you use some grits more than the others.
Lathe Tip

Before applying your finish, sand with the grain to remove any cross-grain scratches. If you sand to a fine enough grit, this won't take long. In reality, you're not removing the scratches, you're just reorienting them with the grain, where they become essentially invisible.
9. How Much Wood Will a Good Chuck Chuck?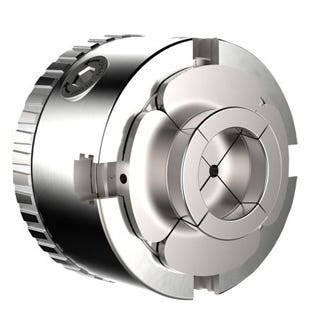 You can get by turning bowls and vessels with a faceplate for a while, but eventually you'll want a good 4-jaw scroll chuck. The advantages of a 4-jaw chuck are numerous: you don't have to screw your blank to the faceplate, the chuck automatically centers the blank, and you can easily remove the blank and rechuck it to turn the other side of the piece, leaving no screw holes or other evidence of being held. Plus, scroll chucks aren't just for bowls, they also grip (and center) standard square spindle stock as well.
Rockler offers a full range of lathe chucks, jaws and accessories. Nova chucks are an ever-popular choice, and offer a wide variety of accessory jaws. A newer chuck on the market is the Easy Wood Tools Easy Chuck, which features innovative Snap Lock jaw mounting. Most chucks are available as either direct thread chucks or insert chucks. The advantage of insert chucks is that you can upgrade to a larger lathe without having to buy a new chuck. You'll just need to buy a new threaded insert/adapter that matches the threads on your new lathe.
10. Stick to Hardwoods For Turning Blanks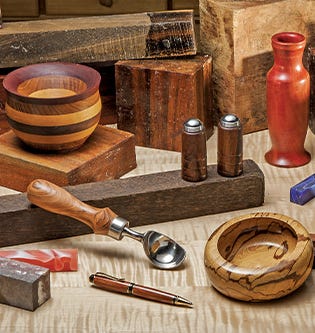 You might be tempted to practice turning with some pine from a 2x4 you have laying around, but pine is notoriously prone to tearing out, especially in end grain. You'll have much better results turning hardwoods—maple is an easy, affordable wood to practice on before graduating to more exotic materials. Rockler offers a huge selection of turning blanks in a wide variety of sizes, materials and wood species, both domestic and exotic. Pen blanks, bowl blanks, spindle blanks, and handle blanks are just a few of the rough-dimensioned options we offer.
We're confident you're going to love your new lathe, and we hope these simple tips will help you get more from it. Don't forget that we have expert staff in our stores, online and available by phone to help out if you have a question that's not answered here.